Recording of the public Lecture by Dr Varuna De Silva – Artificial Intelligence (AI) for Engineering Applications
Recording of the public Lecture by Dr Varuna De Silva can be accessed via the link below.
https://zoom.us/rec/share/wHxbhawPKnQ0JWuAEresXyKmmhxKlq27-H2UpRZd58-fHb4rNM1JiUWtsPEuuPQX.7Nj76Vxju0vNNwML
Access Passcode: IESLPublicLecture@17
Dr. Varuna De Silva, Associate Professor in Machine Intelligence, Loughborough University, London. https://www.linkedin.com/in/varunadesilva/
Dr. Varuna De Silva delivered a fascinating Public Lecture on 17th of February 2021. The online event was well attended with the participation of over 50 engineers from different fields. IESL NSW chapter sincerely thanks Dr. Varuna for joining us from London to share his wealth of knowledge with the engineering community in Australia and Sri Lanka.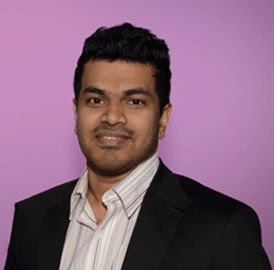 Dr. Varuna De Silva is an Associate Professor in Machine Intelligence at Loughborough University, United Kingdom. He graduated from University of Moratuwa, as an Electronics and Telecommunication Engineering in 2007, after which he had a brief stint of 1 year as a Telecoms Engineer at then Dialog Telekom. He obtained his Ph.D. in video coding and computer vision from Centre for Vision, Speech and Signal Processing at University of Surrey in 2011. He has worked in 3 major European Union Funded Projects during 2010-2013, all in the area of high throughput data processing and communications. Between 2013 and 2016, Varuna worked as a senior research engineer in computer vision at Apical Ltd (Now part of ARM UK). He was appointed lecturer at Loughborough University in 2016. He currently is the principle supervisor of 7 Ph.D. students and 2 Post-doctoral research fellows in the area of Artificial Intelligence (Multimodal machine learning & multi-agent reinforcement learning) with a strong focus on engineering applications in driverless vehicle technology and team sport analytics. He is currently sponsored by the Engineering and Physical Sciences Research Council of UK, Toyota Manufacturing UK, Chelsea Football Club, and Dallas Mavericks NBA Team. He is the author of more than 50 Journal and conference publications. His current research interests are in probabilistic modelling and scaling approaches for Multi-Agent reinforcement learning. His research interests are in the area of Multimodal machine learning and multi-agent reinforcement learning with a strong focus on engineering applications in driverless vehicle technology and team sport analytics.
Synopsis:
Artificial intelligence (AI) and machine learning are changing engineering. Even though these technologies are now seemingly "everywhere," one shouldn't overlook how truly incredible they are and the remarkable things they enable to do today and will allow us to do tomorrow. For engineers, artificial intelligence and machine learning might cause the tasks they do to evolve, but it can also help them do things they weren't capable of before. In this talk the speaker will talk about his experience on using AI while working in different Engineering projects such as in Driverless vehicle technology and team sports analytics. The talk will introduce few key areas in AI such as Reinforcement Learning, Computer Vision and probabilistic modelling and how such domains are driving the innovations in Engineering. The talk will introduce different challenges posed by real world problems and discuss the algorithmic developments that try to address them.