Border is closer now – Pacific Highway Upgrade
Pacific Highway upgrade between Hexham (Newcastle) in NSW and Queensland border has been upgraded to four lanes to improve traffic safety, reduce travel time and improve amenities to local communities. The last 155 km section between Woolgoolga to Ballina (https://www.pacifichighway.nsw.gov.au/project-sections/coffs-harbour-to-ballina/woolgoolga-to-ballina#Projects) has been upgraded and opened to traffic in December 2020 at a cost of nearly $5 billion. Apart from the Coffs Harbor, all the local townships have been bypassed now.
The upgrades carried out over last 15 years would have saved nearly 2 hours of travel time compare to that in (circa) 2005.
This upgrade has been challenging due to difficult ground condition especially over major flood plains and lowline terrains. Ballina Bypass project was a complicated one with nearly half of the route is underlain by some of the most compressible soils in Australia, and to a depths exceeding 25 m. Nearly 3 km long viaduct has been constructed as part of Kempsey Bypass project over a major floodplain. Within few months after the road opening, heavy flood of over 4 m high testified the importance of the bypass.
The recent upgrade of 155 km section includes more than 170 bridges and over 350 connectivity structures. Out of few major bridges Harwood Bridge over Clarence  River stands as one of the tallest bridge.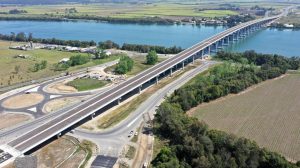 So, Queensland border is now closer (in terms of travel time) than ever before as a result of nearly $10 billion worth of highway upgrades completed over last 15 years.
Further reading:
https://www.pacifichighway.nsw.gov.au/document-library/pacific-highway-upgrade-ebook