The Institution of Engineers Sri Lanka, NSW Chapter Executive Committee 2017/2018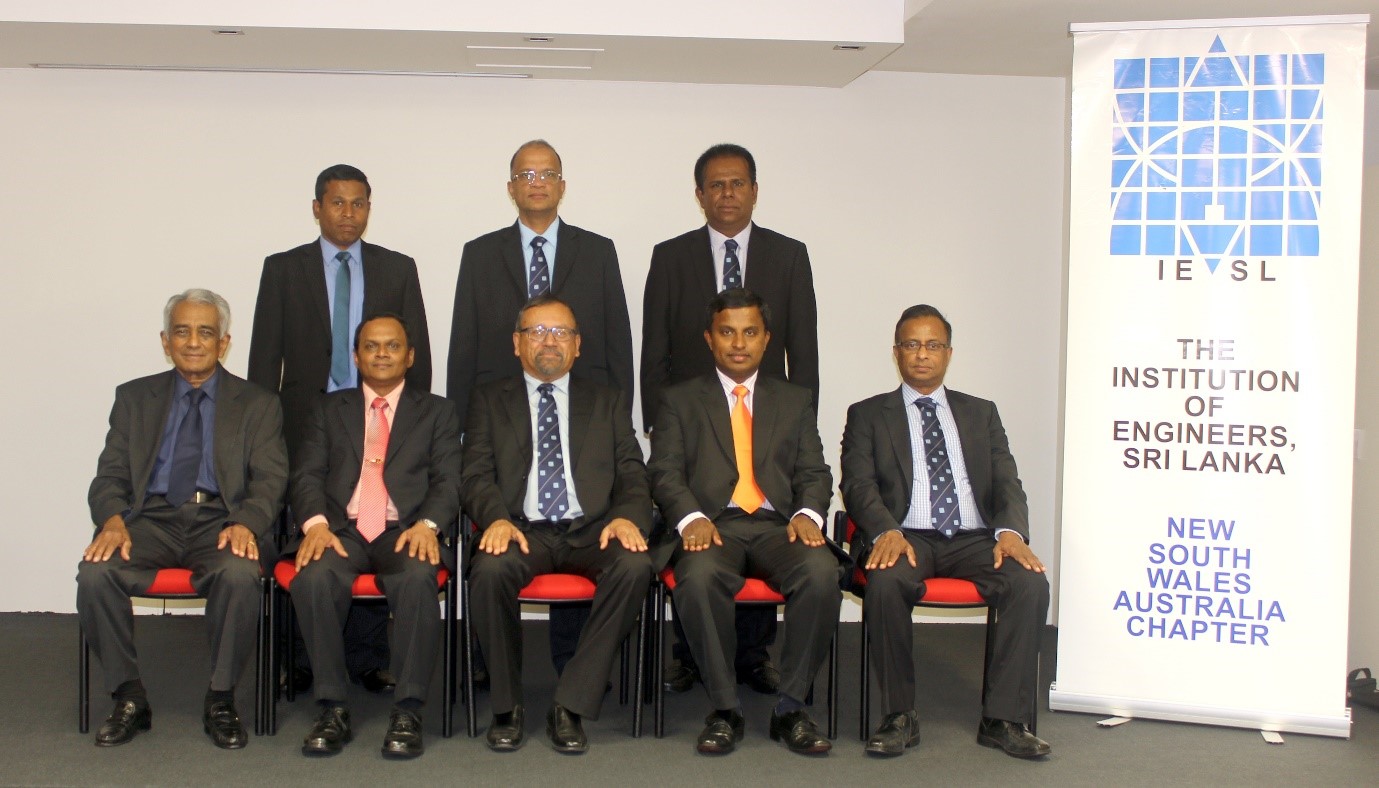 | | |
| --- | --- |
| Eng. Sarath Wijayapala – Chair | Eng. Subhani Medawala – Committee Member |
| Eng. Rohitha Silva – Vice Chair | Eng. Sisira Marakkala – Committee Member |
| Eng. Dr. Buddhi Wijeratne – Secretary | Eng. Indunil Kariyakaranage – Committee Member |
| Eng. Mahendran Manoharam – Treasurer | Eng. Buddhi Ranasinghe – Committee Member |
| Eng. Udaya Peeligama – Editor | Eng. Gayan Abeywaradane – Committee Member |
| Eng. Dayantha Jayaratne – Past Chair | |
A brief summary of events including the highlights, in the Management Committee's term of office
AGM of IESL NSW Chapter was held on 22nd October 2017 where the 9th Management Committee was elected.
After many discussions in 2017 and 2018 held by NSW Chapter Chairs with IESL Presidents in Colombo and the CEO of IESL, it was agreed to transfer the balance due to the IESL NSW Chapter account and the last three-year tranche (2015, 2016 and 2017) was received in mid-2018.
Chapter conducted 3 knowledge sharing lectures as follows.

"The Use of the Underground Space for Sustainable Development" By Eng. Alexander Gomes at EA auditorium
"Current and Future Trends of Robotics in Infrastructure" by A/Prof Eng. Sarath Kodagoda at EA auditorium
"Power Systems Planning – The Art of Raising a Phoenix" by Eng. Dr Nalin Pahalawaththa at EA auditorium

IESL NSW Chapter conducted a Young Engineers Day on 28th February 2018 where 4 presenters shared their research findings as follows.

Eng. Pulith Vidanapathirana a Civil Engineer from SMEC presented "Drainage Design and the North West Metro".
Eng. Varuni Fernando, a Systems Engineer at ResMed Ltd presented "Enabling the World's Smallest CPAP Device".
Eng. Chamindi Jayasuriya, a PhD Student at the University of Wollongong, presented "Use of elastic inclusions to improve rail track performances".
A group of engineering undergraduates from the University of New South Wales who call themselves "UNSW Impact Engineers" presented "Re-igniting the Village Economy with Humanitarian Engineering".

Chapter organised an Industrial Visit to NSW Rail Museum at Thirlmere on 4th August 2018. The group was able to observe and learn about the rich heritage, history, and some of the exceptional engineering and design achievements of NSW railways.
Chapter continued the web-based newsletter as a convenient way of presenting news without the limitations of a formatted structure, which was started in 2017. Readers were able to see the front page of the newsletter with highlights of the content and details hosted in the website. Using this method, the Chapter Committee was able to monitor the number of readers visiting each page. Chapter issued four newsletters for this session.
The Engineering Conference was held on 8th of June 2017 at the EA auditorium in Chatswood.
Engineering Excellence Awards were presented in the following 3 categories.
Best paper published
Best innovation
Best infrastructure development project
The winners of the awards were as follows.
Best paper published
Eng. Chamindi Jayasuriya for her publication "The Use of Under Pads to Improve the Performance of Rail Tracks".
Eng, Pubudu Jayathilaka for his publication "Influence of Osmotic Suction and Tree Roots on the Stability of Coastal Soils".
Best Innovation
Eng. Prof. (Sathaa) Arumugam Sathasivan for his work on "BRC Tool to Manage Service Reservoirs to Achieve Satisfactory Disinfection at the Customer Tap".
Eng. Nilindu Muthubandara for her work on "An innovative design: Mitigation Vehicle Windscreen Spearing Risk from Road Signs".
Best Infrastructure development project
Eng. Bandula Subasinghe for her work in project "Energy Efficient and Sustainable Engineering Services Design for Endeavour Energy FSC Springhill"
Eng. Manori Suriyarachchi for her development of "Technology Driven Proactive Assets Management System Developed for GIS Map Enabled GPS Tablet Computers"
The Papers presented were assessed and the Engineering Achievement Awards were presented at the Gala Nite the following day. The assessments were carried out on the established criteria by an independent selection panel.
The Chapter Engineers' Nite 2018 was held on 9 June 2018 at Hornsby RSL. This was held in grand style for the seventh consecutive time. Invitees were Prof (Mrs) Niranjanie Ratnayake, President of the Institution of Engineers Sri Lanka, Ms. Julie Mikhail, President of Engineers Australia, Sydney Division, Dr. Marlene Kanga, President of the World Federation of Engineering Organisations (WFEO). Key note speech was delivered by Professor Karu Esselle. This annual event was attended by over 250 engineers, industry experts, academia and many distinguished invitees representing various collaborative organisations.
General comments
Relationship between Engineers Australia (EA) and the Chapter was maintained at a high level throughout this year. Engineers Australia continued their support in providing the venue for all the public lectures free of charge.
During this year relationship with IESL headquarters was well maintained through regular conversations with IESL President Eng. (Prof) Niranjanie Ratnayake and CEO Eng. Neil Abeysekera. They were all keen to assist the Chapter despite the issues they had to deal within the local context.
The tradition of exchanging information between Overseas Chapters and Provincial Chapters about activities in regular conference calls with IESL Head office was continued.
The links with Western Australia Chapter and Queensland Chapter were maintained. There were active discussions specially on introducing a Standard Operating Model for Overseas Chapters.
A Draft Process for formalising the currently ad-hoc arrangements for Engineering presentations in NSW Australia and Sri Lanka by visiting engineers from the two countries was submitted to the Council with no clear response received.
Further information please refer to the annual report.