Drought Relief in an hour of need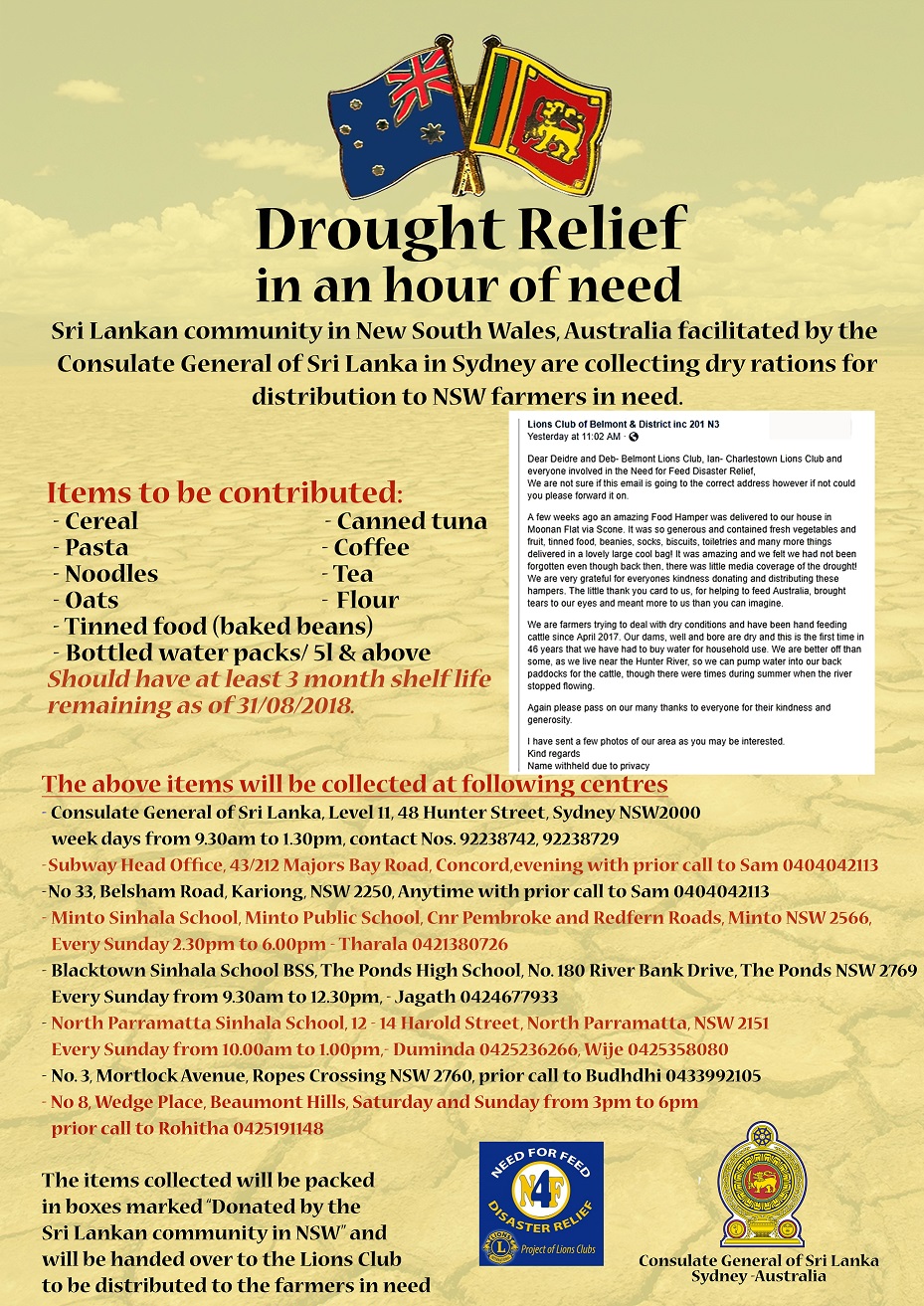 The Sri Lankan community in New South Wales is collecting drought relief for the Australian farmers in NSW affected by the prevailing drought.
New South Wales and Queensland is in the midst of a severe drought the likes of which has not been experienced in the last 40 years. The farming community have been seriously affected in addition to their livestock perishing. Australia has always extended the hand of friendship and supported when natural disasters occurred in Sri Lanka.
This worthy cause will further enhance the goodwill between the two countries and peoples. Already the Australian Authorities have commended this effort, the sentiment and generosity shown by the Sri Lankan community in this hour of need.
We acknowledge the number of Sri Lankan Associations and Sinhala Schools who joined hands for this combined efforts.
From 8th August 2018 onward you could hand over the any number of listed items to any of the collection centres given in the above flyer. Collection of donations will be closed on 16th September 2018.
All the donations that will be collected at the collection centres will be handed over to the Lions Club "Need For Feed – Disaster Relief" as recommended by the New South Wales State Office of Department of Foreign Affairs and Trade.
Most importantly, this will be handed over as a donation form Australian Sri Lankan community.
All the donations will be acknowledged by the Consulate General. Please leave your Name, contact number and email address at the collection centres.
Please circulate the email to your contacts and please donate at the collection centres.
Thank you & Best Regards
Lal Wickrematunge
Consul General