The Institution of Engineers Sri Lanka, NSW Chapter Executive Committee 2013/2014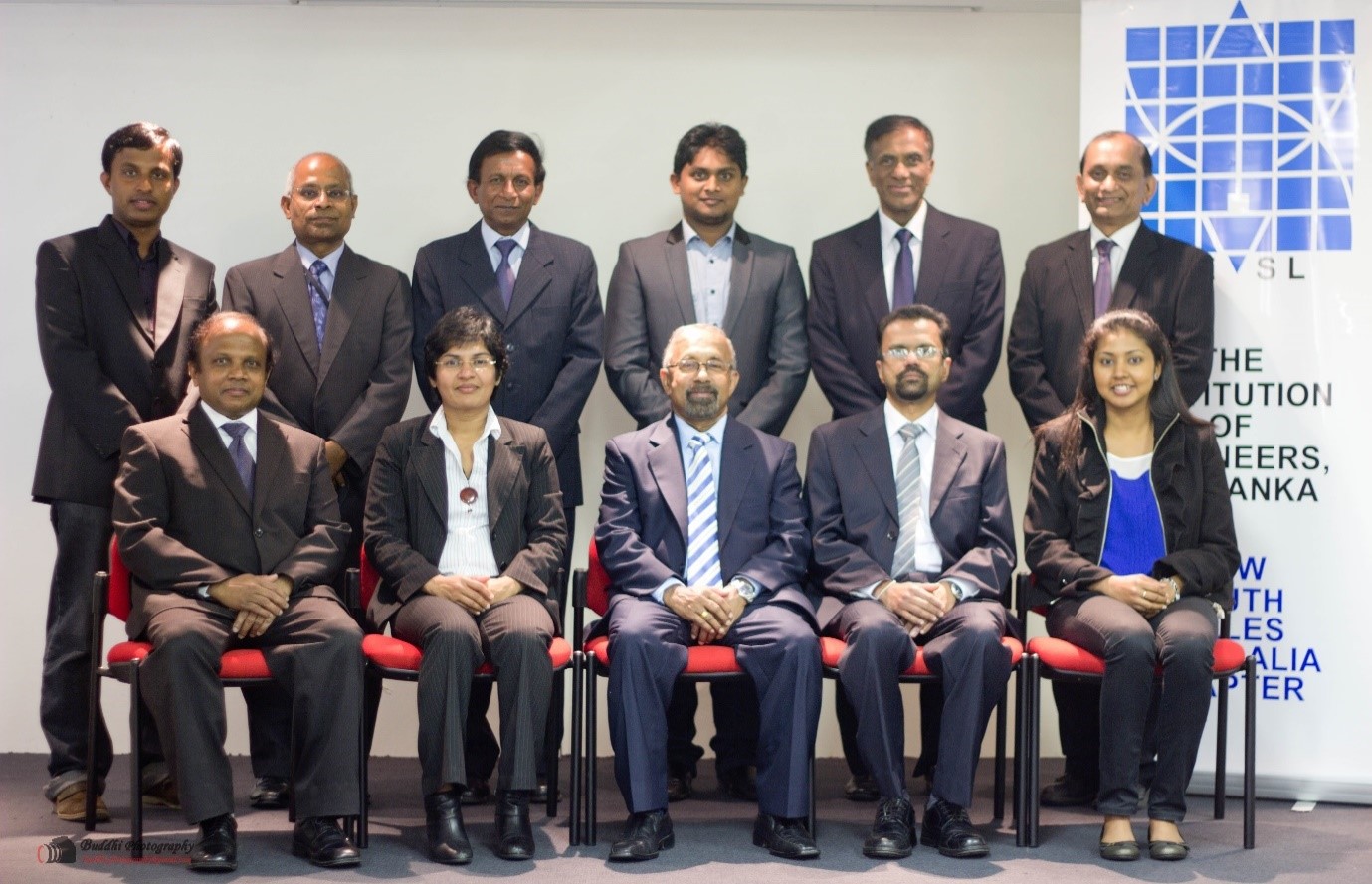 Eng. Mahinda Karunaratne – Chair                            Eng. Buddhi Wijerathna – Committee Member
Eng. Kamal Fernando – Immediate Past Chair    Eng. Dilupa Nakandala – Committee Member
Eng. Waruna Kaluarachchi – Vice Chair                  Eng. Maha Mahadeva– Committee Member
Eng. Dayan Gunasekera – Secretary                         Eng. Udeshini Pathirage – Committee Member
Eng. Ananda Herath – Treasurer
Eng. Sarath Weerasinghe/Shamal Pannila – Editor
Eng. Dushmantha Thalakotuna – Web Master
A brief summary of events including highlights, in the Management Committee's term of office
AGM of IESL NSW Chapter was held on 29th September 2013 where the 5th Management Committee was elected.
Eng. Roy Abeygoonawardana was appointed at the AGM as the Washington Accord Coordinator to provide assistance to the IESL Accreditation Board for the Washington Accord application process.
In a major achievement, the IESL on Friday 13th June 2014 became a full signatory to the Washington Accord.  This was decided at a meeting of the International Engineering Alliance, the Secretariat of the Washington Accord in Wellington, New Zealand.
The IESL unilaterally took a decision to recognise EA members's qualifications.  This was announced in July 2014.
1.  Assistance for newly migrant Engineers
The Chapter initiated a Mentoring Program to assist recently migrated Engineers from Sri Lanka, in finding suitable employment in Australia.  The first Mentor/Mentee agreement was signed on 30th May 2014.
2.  Knowledge Sharing Lecture Series
The chapter conducted 4 knowledge sharing lectures as follows:
" Complex Communications and electronic Systems" by Eng. Nihal Fernando at EA auditorium on 30th October 2013
"Autonomous Machine how they are built, what makes them work " by  Eng. Dr. Jayantha Katupitiya at EA auditorium on 25th February 2014
"User Centred Ontology for Sri Lankan Farmers" by Eng. Mrs. Anusha Walisadeera at EA auditorium on 16th  July  2014
"North West Rail Link: Technical Challenges & Current Status" by Mr. Adrian Bull, at EA auditorium on 27th August 2014.
3.  Young Engineers day
IESL NSW chapter conducted the Young Engineers Day on 26th March 2014 where 4 presenters shared their research findings as follows:
 Madhuka Jayawardhana(PhD Candidate, University of Western Sydney)  ‐ "Decentralized Structural Health Monitoring using Wireless Sensor Networks"
Buddhi Wijerathana (PhD Candidate, University of Technology, Sydney) – "Advanced Condition Assessment and Failure Prediction Technologies for Optimal Management of Critical Water Pipes"
Deependra Puswella (Project Engineer, NSW Public Works) – "Wastewater Treatment Plants and success stories"
Muditha Pallewattha (PhD candidate, University of Wollongong) – "Subgrade Soil Stabilisation along Rail Corridors through Native Vegetation"
4.  Industrial Visit
Chapter Organised an Industrial Visit to Sydney Water's St Marys Wastewater Treatment Plant facilitated by the committee member Eng. Dr.  Dilupa Nakandala.
5.  Newsletters
IESL NSW Chapter published 3 newsletters which communicated the activities of the Chapter, informed readers of the current engineering developments in our neighbourhood and highlighted the achievements of our members. NSW Chapter Chair Eng. Mahinda Karunaratne set out the vision for the IESL by a feature article in the second newsletter published on March 2014. This issue highlighted the election of two engineers as Fellows of the Engineers Australia, Eng. late Kamal Fernando and Eng. Sarath Wijayapala
6.  IESL NSW Engineering Excellence Awards and Engineering Convention.
The Engineering Conference was held on 30th May 2014 at the EA auditorium in Chatswood. Engineering Excellence Awards were presented in the following 3 categories.
Best paper published
Best innovation
Best infrastructure development project
The winners of the awards were as follows;
Best paper published
Excellence award – Eng. Kaushalya Wijekoon, "A novel membrane distillation – Thermophilic bioreactor system: Biological stability and trace organic compound removal".
Highly commended award – Eng. Namal Yapage,  "Numerical modelling of geotextile reinforced embankments over deep cement mixed (DCM) columns incorporating strain softening behaviour of columns".
Best Innovation
Excellence award –  Eng. Priyadarshanie Weeraratne,  "Woomargama bypass of the Hume Highway Upgrade project"
Highly commended award – Eng. Damith Herath, "RoBuddy – Connect your world".
Best Infrastructure development project
Excellence Award – Eng. Dammika Vitanage, "The advanced condition assessment and pipe failure prediction project".
Highly commended award – Eng. Srimathi Ediriweera, "Dunmore bridge structural capacity upgrade".
7.  Sponsors
Chapter received Gold sponsorship for the Engineering Convention from NSW Public Works and three Bronze Sponsorships from Fulton Hogan, SMEC and JBS&G Services.
8.  IESL NSW Engineers Gala Dinner
IESL NSW Chapter Gala dinner was held on 31st May 2014 at Castle Grand, Castle Hill.  Mr. Aruna Ratnasena represented Consul General of Sri Lanka, Mr. Bandula Jayasekara, President of the Institution of Engineers Sri Lanka Eng Shavindranath Fernando and the National President of Engineers Australia Professor Alex Baitch graced the occasion. The keynote speech was delivered by Professor Alex Baitch, National President of Engineers Australia.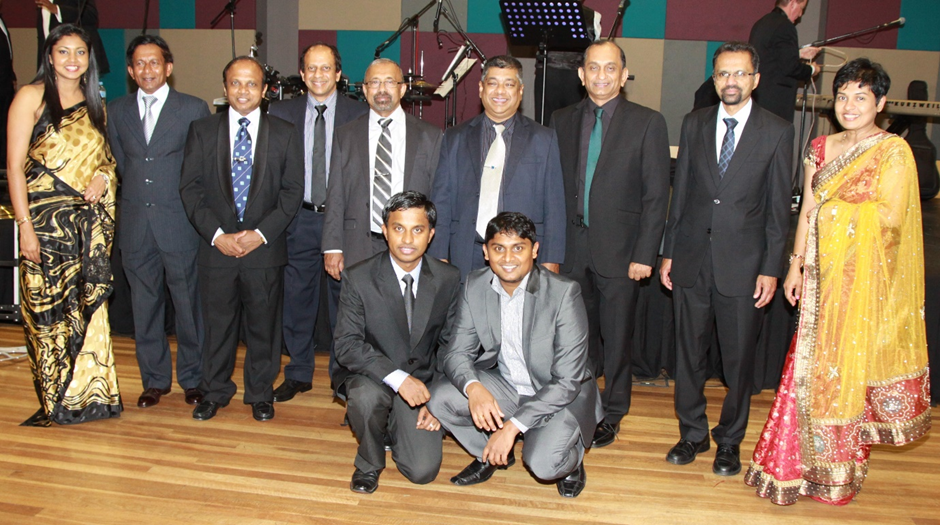 Picture taken by the Committee during the Gala Nite with Chapter Editor Eng. Shamal Pannila (4th from Left) and IESL President Eng Shavindranath Fernando (4th from Right)
Eng. (Dr.) Dayan Gunasekera and Eng Shamal Pannila participated at the Techno Sri Lanka 2014 on behalf of the Chapter. Eng. Dr. Gunasekera delivered a presentation on "Water distribution pipe network modelling" at IESL Auditorium. Eng Pannila delivered a presentation on "Sydney Trains: The network and our focus" at BMICH Techno 2014 event.
9.  Strengthened relationships with the parent body
The Chair of NSW Chapter participated in eight IESL Council meetings via video conferencing.
The Chair of NSW Chapter participated in eight IESL Council meetings via video conferencing.
Further information please refer to the annual report.