The Institution of Engineers Sri Lanka, NSW Chapter Executive Committee 2015/2016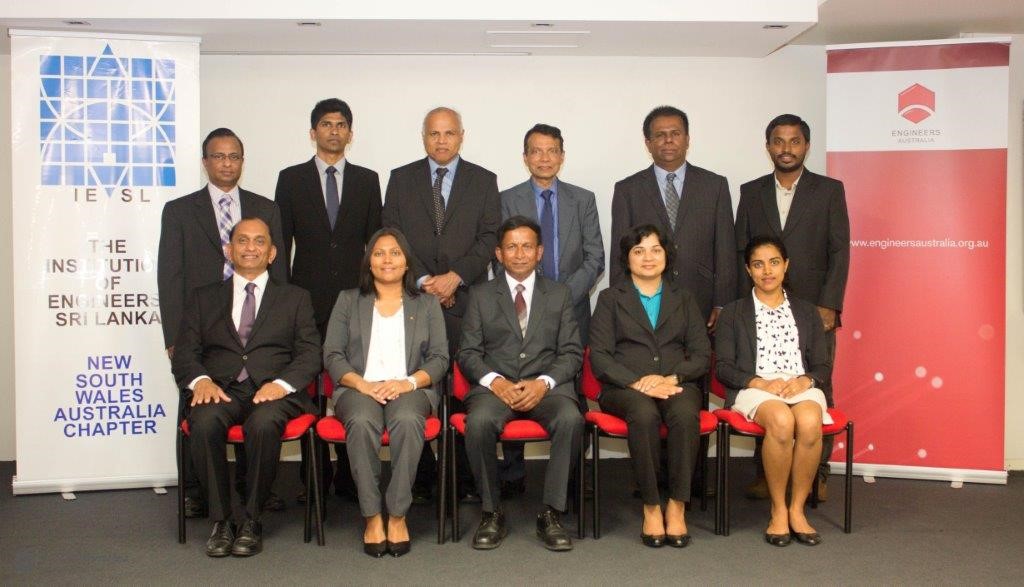 Eng. Ananda Herath – Chair
Eng. Chamindi Jayasooriya – Committee Member
Eng. Waruna Kaluarachchi – Immediate Past Chair
Eng. Madhuka Jayawardhana – Committee Member
Eng. Dayantha Jayarathna – Vice Chair
Eng. Mahendram Manoharam – Committee Member
Eng. Amali Wickramasinghe – Secretary
Eng. Prathapa S Ravindra – Committee Member
Eng. Lal Wickramarachchi – Treasurer
Eng. Thamarie Jayasinghe – Committee Member
Eng. Nalin Seneviratne – Editor
Eng. Buddhi Wijerathna – Web Master
A brief summary of events including the highlights, in the Management Committee's term of office
AGM of IESL NSW Chapter was held on 11 October 2015 where the 7th Management Committee was elected
NSW Chapter representatives met with IESL President, CEO, President Elect and Executive Secretary on 16 December 2015 at the IESL head office Colombo and discussed the following;

Washington Accord
Mutual recognition of Chartered Professional Engineers of IESL and EA
Assistance to new Engineering Faculties in North & East
Assistance to Road Safety in Sri Lanka
1.  Knowledge Sharing Lecture Series
Chapter conducted 4 knowledge sharing lectures including one in Sri Lanka as follows.
"Engineers in the driving seat" by Eng. Gamini Gunawardana at EA auditorium on 16 December 2015
"Saving $20 million on a breakwater repair design utilizing 3D numerical and physical wave modelling" and "Using short wave spectra to model long waves in a harbour 3D model" by Eng. Indra Jayawardene at IESL Colombo Head Office auditorium on 13 January 2016
"Engineering Digital Ecosystems for Sustainable Development" by Professor Athula Ginige at EA auditorium on 22 march 2016
" Intelligent Robots for Bridge Inspection and Maintenance" by Professor Dikai Liu at Sydney Water Head Office Parramatta on 24 August 2016
Chapter had a meeting with the CEO of EA Sydney Division on 22 March 2016 to promote the relationship between EA and IESL NSW Chapter.
2.  Young Engineers day
IESL NSW Chapter conducted a Young Engineers Day on 27 April 2016 where 4 presenters shared their research findings as follows.
"User Experience(UX)" by Eng. Charith Samaranayake
"Performance of an anaerobic membrane bioreactor; removal and fate of trace organic chemicals" by Eng. (Dr) Kaushalya C Wijekoon
"Integrated access control for smart buildings using building information models" by Eng. (Dr) Nimal Skandhakumar
"PrivMecrics; A framework to secure user privacy in smartphones" by Eng. (Dr) Suranga Seneviratne
3.  Industrial Visits
Chapter organised an Industrial Visit to Australian Nuclear Science and Technology Organisation (ANSTO) on 13 May 2016
4.  Newsletters
IESL NSW Chapter published 3 newsletters which communicated the activities of the Chapter, informed readers of the current engineering developments in our neighbourhood and highlighted the achievements of our members.
5.  IESL NSW Engineering Excellence Awards and Engineering Conference.
The Engineering Conference was held on 10 June 2016 at the EA auditorium in Chatswood. Engineering Excellence Awards were presented in the following 3 categories.
Best paper published
Best innovation
Best infrastructure development project
The winners of the awards were as follow;
Best paper published
Excellence award –
"Equivalent-Circuit Models for Efficient Transmission and Dispersion Analyses of Multi-State Periodic Structures" by Professor Karu Esselle and Eng. Dr Dushmantha Thalakotuna
Highly commended award –
"Significant improvement in both low and high-field performance of MgB2 superconductors through graphene oxide doping" by Eng. Dr. Sujeewa De Silva
Best Innovation
Excellence award –
"Shock Mats made of recycled tyre waste to enhance the stability of ballasted rail track" by Eng. Sinniah K. Navaratnarajah
Highly commended award –
"Optimisation of Stochastic deterioration models for bridges under incomplete inspection data using Bayesian inference-based approaches" by Eng. Dr Niroshan K. Walgama
Best Infrastructure development project
Excellence Award –
"Methodology for Assessing Bridges on Road Network for Freight Vehicles" by Adj. Prof. Wije Ariyaratne
6.  Sponsorships
Chapter received 3 bronze sponsorships for the Engineering Convention from NSW Public Works, University of Technology Sydney & Roads and Maritime Services.
7.  IESL NSW Engineers Gala Dinner
IESL NSW Chapter Gala Dinner was held on 11 June 2016 at RSL Club, Hornsby. Consul General of Sri Lanka in Sydney, President of the Institution of Engineers Sri Lanka, President of Engineers Australia – Sydney Division and President Elect of the World Federation of Engineering Organisations graced the occasion. The keynote speech was delivered by Mr. Arun Abey – Chairman and co-founder of Walsh Bay Partners, Chairman and co-founder of Ipac Securities, Chairman Advisory Board of ANU College of Business and Economics, Director of Abey family Foundation & Director of the Smith family.
Vice Chair, NSW Chapter attended the Engineers' Nite, Western Australia on 29 May 2016 and a Committee Member represented the WA Chapter at the NSW Chapter Engineering Convention on 10 and 11 June 2016.
Chapter Chair participated in two video conferences with WA and NZ chapters initiated by WA Chapter for regional cooperation
Chapter set up a private cloud for storing information/documents relevant to its activities for the benefit of the upcoming management committees
Chapter's request for an amnesty to lapsed memberships was not given a favourable consideration by IESL
Further information please refer to the annual report.