5G – An Inevitable Revolution: Let's capture the opportunity to Build Sri Lankan 5G Economy – Eng. Sunimal Ediriweera
Mr. Sunimal Ediriweera, Global Account Director, IBM Corp.
https://www.linkedin.com/in/sunimal-ediriweera-38619/
Eng. Sunimal Ediriweera delivered a very current and captivating Public Lecture on 20th of March 2021. The online event was well attended and well received by the audience. IESL NSW chapter sincerely thanks Eng. Sunimal for joining us from Sweden to share his extensive experience with the engineering community in Australia and Sri Lanka.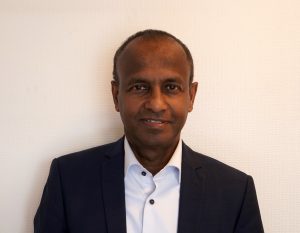 Based in Stockholm, Sweden, Sunimal Ediriweera heads the IBM Global Account for Ericsson at IBM, covering Ericsson and Ericsson Joint Venture companies, in 181 countries, worldwide. An execution focused, results orientated global business and innovation leader, Sunimal brings extensive Global Industry experience, related to industries such as Finance, Telecommunications and Electronics. Sunimal is an elected member of the IBM Industry Academy.
A 26-year industry veteran, Mr Ediriweera has held various senior roles in Technology, Strategy, Sales and Business Development at country, regional and global levels at IBM and at Ericsson. Mr Ediriweera has been engaged in some of the pioneering initiatives in 2G, 3G, 4G and 5G which includes the deployment of world's first mobile banking platform and the research collaboration to develop the award winning mmWave 5G antennas. Mr Ediriweera is currently engaged in initiatives in multiple countries driving 5G fuelled industry and societal transformations. With a broad and extensive knowledge of technology and business applied in over 100 countries in the course of the career, coupled with seasoned communication and leadership skills, Sunimal speaks regularly at industry events, analyst events and conferences and has received many recognition awards at both IBM and at Ericsson and from governments.
Sunimal is a nature photographer, loves hiking in the mountains, and lives with his  wife and daughter, in Stockholm, Sweden.
Synopsis:
Mobile Telecommunications Industry has emerged as a primary engine of global economic growth and global innovation, profoundly changing daily lives—everywhere. Dramatic improvements in standards and technology in mobile communications have propelled mobile to become the fastest adopted technology of all time. In 2019, mobile technologies and services generated $4.1 trillion of economic value (4.7% of GDP) globally, creating 16 million jobs directly supported by the mobile ecosystem and an additional 14 million indirect jobs.  This figure is expected to approach $5 trillion (4.9% of GDP) by 2024 as countries increasingly benefit from the improvements in productivity and efficiency brought about by increased adoption of mobile services, accelerated by 5G. Rapidly evolving 5G technologies are expected to contribute $2.2 trillion to the global economy between 2024 and 2034. During the presentation, the speaker will share his experience over 2 decades, from multiple generations of mobile telecommunications technologies – from 2G to 5G – from both developed and developing countries. He will also share the Covid-19 specific scenarios and experiences, and the current status of 5G including national initiatives. Speaker will walk through specific country examples on how the transformational power of mobile technologies are enabling emerging markets/countries to leapfrog an entire generation of technology and directly deploy business models to connect with new customers and markets, and compete with much larger players.
At the end of the presentation, the speaker will engage in a dialogue with the audience to answer questions and also to discuss how Engineers could take a leading role in leveraging 5G as a foundation to drive economic and societal growth in Sri Lanka.
Recording of the public Lecture by Eng Sunimal Ediriweera can be accessed via the link below.
https://zoom.us/rec/share/Yb2tSYGmO2sN9xcfl9rIGS1i-A-Kx4RyCoU3vGDwznFYpMG-kdE3iWlRjlIuXfNR.l1x_CYoGr2CLgSiI
Access Passcode: IESLLecture#3
Back to the newsletter front page