A Crystal Clear Solution
Article courtesy of Penny Jones and as appeared in UNSW Engineering's Newsletter of March 2018
In January 2018, the student-led project Impact Engineers completed their first in-country recce to install a clean water facility in rural Sri Lanka.
Before the Impact Engineers left to catch their flight back to Sydney, one of the village elders rose to speak:
"There are a lot of people in our village. I am old and can't see properly and I will die soon, but this program is so valuable to my younger generations. We are lucky and blessed to shine under your graciousness. This is a great act of merit. May you be reborn in a time when the Buddha exists and attain the supreme bliss of Nibbana!"
Buddhi Ranasinghe says her impassioned speech made the reason for him being there as crystal clear as the water they aim to provide.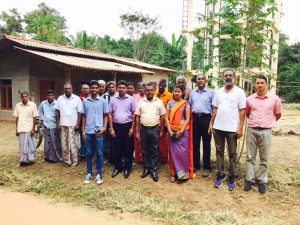 "I'm Sri Lankan and prior to coming to UNSW, when I was 17, I lived my whole life there. I was aware of the struggle farmers in my country faced, but had never been face to face with the problem before, so the trip was eye-opening for me," he says, speaking of his visit to the village where he and his team are on the verge of installing a reverse osmosis water filtration facility.
Now in his third year of Chemical Engineering at UNSW, Ranasinghe says the idea for Impact Engineers grew after he and six Sri Lankan friends (from the faculties of Engineering and Business at UNSW) undertook an independent school outreach program in Sri Lanka in their first year (funded by the NSW Chapter of the Institution of Engineers Sri Lanka) and subsequently won a hackathon run by the University.
"After we won the hackathon we decided to take a formal proposal to the Student Opportunities team at the Engineering Faculty with ideas about humanitarian projects we'd like to do in Sri Lanka. They were very supportive, providing advice and contacts which helped us clarify our ideas and get started."
Fast forward six months and they had raised almost $20,000 from sponsors and a Go Fund Me campaign; consulted with multiple stakeholders in both Sri Lanka and Australia; identified two villages in need of a clean water supply; and visited the villages to prepare for the installation.
"Because of our focus on consultation, when we finally reached the villages in January we didn't find a desperate bunch of people waiting to be rescued, we found an organised group ready to hit the ground running," says Ranasignhe.
"We begin construction of the facility that will house the plant and in March this year we'll complete it. Once operational it should have the capacity to deliver 10,000 litres of clean water per day to over 600 families.
I know I speak for the whole team when I say how thrilled we are to align our humanitarian values with the skills we've gained from UNSW to make real positive change in the country we love.
Buddhi Ranasinghe, Project Manager Impact Engineers and third year UNSW Chemical Engineering student
The farms are primarily agricultural with multiple crops including rice, long beans, corn, lime, guava and coconut. Ranasinghe says that although they have the potential to be an economic paradise, a number of problems prevent this from being a reality.
"Unfortunately, farmers are ripped off by middlemen purchasing their products at extremely low prices. In addition, local schools and services are underfunded and dozens of cases of chronic kidney disease are reported. There is no evidence that the kidney disease is related to a lack of clean water, but there might be a correlation," Ranasinghe says.
Currently, the main source of water is a decentralised raw water system, but the water it produces is not thought to be suitable for long-term human consumption and the villagers have to spend a large portion of their income buying water from private sellers.
One of the most striking things about the Impact Engineers is their ability to listen, process and act appropriately on the information they've received. Information from the National Water Supply and Drainage Board (NWSDB) in Sri Lanka; from the village authorities; from the local University of Peradeniya; from their sponsors and supporters; and from their mentors at UNSW (namely Professor Greg Leslie, Director of the Global Water Institute, Dr Fiona Johnson from the School of Civil and Environmental Engineering and Dr Nick Osborne from the Faculty of Medicine).
They appear to have looked at the situation from every angle and tailored their response so the project will thrive and expand long after the clean water facility is up and running. This approach is epitomised by the establishment of Dilena Tharu – a community-based organisation (CBO) who will manage the facility and reinvest profits into local projects and businesses. The water they sell will be 60% cheaper than the price villagers are paying at present.
There is also an educational component to ensure they are building capacity for the future success of the village. "We will be conducting a 12-month education program with local partners at the University of Peradeniya and Sathi Pasala Foundation. We are designing two streams of modules – one in STEM subjects and the other in entrepreneurship and business development as a catalyst for Dilena Tharu to achieve economic prosperity," explains Ranasinghe.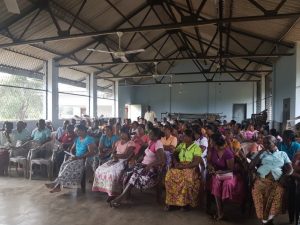 Although he is the spokesperson for Impact Engineers, Ranasinghe is keen to reiterate that this project is not a one-person effort. "I know I speak for the whole team when I say how thrilled we are to align our humanitarian values with the skills we've gained from UNSW to make real positive change in the country we love," he says.
"We feel very lucky because UNSW is so vibrant in the humanitarian sector. The University has a clear strategic focus to support global communities in need so we have not only been able to give something back to our country, but also to the University who has supported us."
Sandra Harrison is the Manager of Student Opportunities in the Faculty of Engineering and says her role is designed to facilitate the proliferation of projects like Impact Engineers by acting as a conduit between students, their mentors in the academic community and their sponsors in industry.
"The story of Impact Engineers is a story of empowerment and one we hope to see often repeated. By empowering our students with knowledge, contacts and seed funding, they can empower a whole community of people on the other side of the world. Impact Engineers have blown us away with their energy, optimism and, quite frankly, the brilliance of their approach. To say we are very proud is an understatement," she says.
Click here to watch the blessing from the village.
Projected impact
Over 2,000 people will have access to clean water at an affordable price.
At least three jobs will be created in the village in the daily operation of the plant.
Dilena Tharu has a projected annual income of approximately AU$30,000 and all profits will be reinvested in the village with the support of the NWSDB and Impact Engineers.
Want to get involved?
Our vision is to 'Create a portfolio of community driven projects that enrich humanity' and we hope to grow and invest in projects in other countries in the region. We are looking for industry mentors (in Australia and overseas), as well as volunteers and financial assistance to help us achieve our vision. If you are able to help we would love to hear from you:  engprojects@unsw.edu.au
Meet the team
Naduni Obadage (Chemical Engineering)
Tharitha Murage (Business School)
Dinushi Mudalige (Electrical Engineering)
Ramal Ratnayake (Computer Engineering)
Yeshan Fernando (Business School)
Hiruni Walpola (Renewable Energy Engineering)