The Institution of Engineers Sri Lanka, NSW Chapter Executive Committee 2011/2012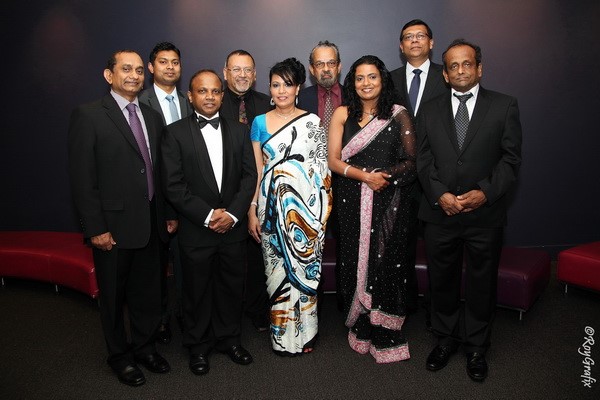 Eng. Maya Amaraweera – Chair                                    Eng. Kamal Wanigatunga – Committee Member
Eng. Nihal Fernando – Immediate Past Chair       Eng. Mala Manisegaran – Committee Member
Eng. Kamal Fernando – Vice Chair                              Eng. Mohan Balakrishnan – Committee Member
Eng. Waruna Kaluarachchi – Secretary                    Eng. Pamal Dias – Committee Member
Eng. Priyadarshanie Weeraratne– Treasurer       Eng. Roy Abeygoonawardana – Committee Member
Eng. Sarath Wijayapala – Editor
A brief summary of events including the highlights, in the Management Committee's term of office
1.  Seminar Program
Conducted four successful series of lectures by engineering professionals as well as young engineers in NSW.  These lectures were held at the Engineers Australia (IEAust) auditorium, Chatswood.  All these events were well attended and well received.  Post event summaries were posted on Chapter website soon after each event.
An inspirational presentation was done by Eng. Arjuna Manamperi titled "Giving back and creating opportunities in Sri Lanka". Arjuna has been a change agent throughout his professional life that spans more than two decades.  While his fundamental background is in operations and manufacturing, over the last fifteen years he has increasingly focused on transforming organisational culture and business processes with information management technology.
The second event in February on "Development of road infrastructure projects in NSW" was delivered by Eng. Suresh Surendran, Senior Project Development Manager, Roads and Maritime Services who has over twenty five years of proven engineering experience in development of road infrastructure projects for both public and private sectors.
The third event in May provided the opportunity for our young engineers to showcase their talents. Presentations by three young engineers on varying topics kept the audience spellbound. They are:

"Flying Robots" by Dinuka Abeywardena, a PhD candidate, University of Technology, Sydney.
"Radio communication systems in RailCorp" by Eng. Uchitha Weerasinghe, Radio Design Manager Railcorp.
"Shear Strength of Infilled Rock Joints" by Eng. Wuditha Premadasa, a PhD candidate, University of Wollongong.

The fourth event in September by Prof. Athula Ginige was a presentation on "Social Life Networks".  Athula Ginige is a Professor of Information Technology at the University of Western Sydney, a fellow of the Cambridge Commonwealth Society, a member of the editorial board of the International Journal of Web Engineering and Editor-in-Chief of the International Journal on Advances in ICT for Emerging Regions.
2.  Newsletter
Published three newsletters.
3. Knowledge Sharing Program
One of the key objectives of the IESL NSW Chapter was to share the knowledge and skills gained by its members through working in Australia, with their counterparts in Sri Lanka.  This year, the Chapter progressed this work through holding presentations by four of its members at the IESL Auditorium in Colombo as well as other venues in Sri Lanka.
The first presentation in January by Eng. Nihal Fernando was titled "Systems Engineering Practices in developing Complex Communications and Electronic Systems"
The second presentation, again in January by Eng Dayantha Jayaratne was on "Designing Consumer Goods for Manufacturability"
The third presentation in May by Eng. Sarath Wijayapala was titled "Maintaining the Technical Integrity of Systems/Equipment"
The fourth presentation in June by Eng. Indra Jayawardane was titled "Ocean Swimming pools for Sri Lanka – Case Studies in Improving Design Criteria for Ocean Swimming Pools Using Physical Modelling and Other Investigative Techniques"
4.  Chapter Website
Significant enhancements were made to make it well organised, user friendly, informative, and exciting through following enhancements:
re-positioning the most useful and frequently accessed components on prominent places on the home page,
following more user/member oriented approaches such as posting images of activities carried out by IESL NSW Chapter with members' participation in the main banner, symbolising the closeness to Australian community,
keeping the information up-to-date and maintaining good quality of published articles.
'Expert Forums' was opened for the members to register by themselves and post their questions to obtain answers from fellow engineers.
5.  Inaugural Annual Engineers Convention
For the first time, the Chapter organised a successful Engineers Convention with an aim of reinforcing a stronger professional engineering theme, by combining the Engineers Gala Dinner with an Engineers Conference.
The Engineers' Conference, On Friday 20th July was held at the Institution of Engineers Australia Auditorium, Chatswood, from 5 pm to 9 pm with an attendance of over 100.  At this conference four selected engineering related papers by professional engineers from both academia and the industry were presented.
 The Gala Night, On Saturday 21st July a gala night was held from 6:30 pm to 12:00am at Castle Grand, Castle Hill. Over 300 members including their spouses attended the event.  The nights' inspiring keynote speech was made by Deva Mylvaganam on "Infrastructure Engineering opportunities associated with Sri Lanka's Development Needs"
This year the Engineering Convention had attracted many major public and commercial sector sponsors. This is a testimony to the exceptional services provided by engineers of Sri Lankan origin to the NSW community and businesses.
Gold Sponsorships
NSW Public Works
Roads & Maritime Services of New South Wales
Silver Sponsorship 
Bronze Sponsorships 
Abi Group Pty Ltd
Snowy Mountains Engineering Corporation (SMEC)
Dulux Paints
6.  Engineering Excellence Awards:
The executive committee decided to commence an awards program to recognise the commitment of engineers with a Sri Lankan background towards the wellbeing of the community and the innovative and unparalleled engineering solutions they deliver in New South Wales, Australia.
As an initial step towards this program, this year the committee decided that the best papers published during last five years to be rewarded.  The Chapter received fourteen submissions from various engineering disciplines. The submissions were assessed by a panel of specialists of those research areas based on the following criteria.
Originality of the paper
Innovation
Value to the community
Solutions to an engineering challenge
Demonstration of excellence
Out of the fourteen submissions received, four papers had been were selected for presentation at the    Engineers' Conference.
Prof Buddhima Indraratna and Dr Jayantha Ameratunga, "Performance and Prediction of Vacuum Combined Surcharge Consolidation at Port of Brisbane"
Prof Karu P Esselle, "Prediction of the notch frequency of slot loaded printed UWB antennas"
Ms. Nadeesha Dharmasiri (PhD candidate), "Momentum Balance Method (MBM) and Estimation of Boundary Shear Stress Distribution"
Dr. Prathapa Ravindra, "Shakedown analysis of road pavements ‐ application to project level and network level scenarios"
7.  Membership Drive
Renewals-10.  Reinstatements-38.  Numbers reflect the streamlined membership renewal process. Obtained another round of amnesty for membership reinstatements.
8.  Strengthened relationships with the parent body
Through Seminar/presentations, and information transfer with Sri Lankan organizations.
9.  Financial Status
Chapter managed a net surplus of AU$12,829.50 as at 30th September 2012.   During the term of this committee, the total income of the Chapter was AU$ 37,601.71.  The main contribution to the income and the savings was from the Engineers Convention 2012.
Issues and challenges faced, and the special contributions made during the term of office
Communication with members
Communications with members were primarily via emails, website and newsletters. Significant effort was made to increase the contact list to about 500 unique records.  These included current IESL members residing in NSW & ACT and potential members who have varying associations with the Chapter residing in NSW and ACT.
During the year, considerable effort was put in to validate the existing contacts and update the membership status of current IESL members.  We designed and developed a membership database with following features:
easy to add, update, and query member details
easy to register members attending Chapter events, and send emails to them with a brief proceeding of the event and thanking for attendance
facilitate membership registration through web in future.
Also identified the importance of expanding this list to reach the Engineers of Sri Lankan background scattered around NSW and ACT.  Though the regular update of contact list has taken place, this was identified as an area that needs further attention to reach a wider engineering community.
Membership renewal
The committee recognised the limitations in online payment facilities and member information updating mechanisms as two main problems for expatriate IESL members.  Many IESL members in NSW have unintentionally lost their membership due to these reasons.  Therefore, IESL NSW Chapter formally requested IESL to offer another round of amnesty in addition to what was granted in the year 2009 to expatriate engineers to reinstate their memberships.  As a result, IESL Council has decided to offer an amnesty to former members.
Under this amnesty offer, the past members could pay the subscription fees for 2012 financial year plus any arrears of subscription fees due for three years prior calculated at 2012 rates.
There were 10 members who successfully reinstated their membership using this Amnesty offer in 2012.
Inaugural Annual Engineers Convention
The Chapter held its inaugural Annual Engineers Convention on 20th and 21st July 2012. Since its incorporation in 2009, Chapter has held its gala dinner, Engineers Nite, for the past two years.  In 2012 event was aimed at reinforcing a stronger professional engineering theme, by combining the Engineers Gala Dinner with an Engineers Conference, to deliver the Engineers Convention 2012.
Another main highlight of this Event was Chapter's ability to attract many major public and commercial sector sponsors. This was a testimony to the exceptional services provided by engineers of Sri Lankan origin to the NSW community and businesses.
The second part of the Convention, the Engineers Nite: the evening provided an elegantly set rendezvous for the entertainment and networking of close to 300 guests, mostly from the engineering profession. The lavish 3 course dinner by Chef Rohan Gamage, was served in style while the proceedings and the entertainment for the evening went on. Live music by "Fusive" suited all ages and tastes and the guests danced to their hearts content in the large dance floor provided. A lively session by "Elvis the Entertainer" got the audience into the party mood soon after the entrée was served. "Duke", the Master of Ceremonies coordinated the event seamlessly while keeping the tempo and the spirits up.
Other developments with parent body
In July 2012, IESL NSW committee was able to meet IESL President Dr. Ananda Ranasinghe twice and at these meetings IESL President agreed to the following:
To maximise benefit, IESL to provide adequate publicity for presentations and workshops organised by the IESL NSW Chapter members
In the future IESL to provide facilities to pay membership fees online  through its website
Improve the IESL website to make it user friendly and useful to the membership.
Chapter to send a formal request to IESL Council to establish panels in NSW for;

assessment for Corporate memberships
recognition of qualification and experience of engineers in NSW & ACT and recommending for memberships.

Streamline administrative functions between the two bodies.
Chapter agreed to the following:
NSW Chapter to write series of articles on Safety and Environmental procedures /issues related to construction industry and work places in general and publish in IESL journals.
Assistance for upgrading the IESL Head Office library.
Challenges and recommendations for the future
There were more challenges that needed to be properly identified and addressed.  It was recommended to give priority to the following:
Further streamlining the membership renewal process
Developing membership awarding and upgrading process to be  managed and recommended  by a Panel formed by the NSW Chapter
Membership promotion and expansion
Exchange experiences with engineers in Sri Lanka on safety and environmental issues related to industry and work place in general through a series of publications in IESL Journals
Upgrade and introduce digital technology at IESL Colombo library.
Also, it was recommended to monitor following items:
Networking; very important – continue Engineers Convention (Engineers Conference precursor to Engineers Gala Night)
Consider using internet technology for better participations on public lectures (e.g. webinar)
Expand the use of Expert Forums
Contribute to engineering in Sri Lanka by initiating few significant projects: identify projects in short term to be completed in the year and long-term projects that will continue to progress
Expand support for newly migrant engineers to find employment opportunities by nominating a committee member to identify individuals in different engineering disciplines outside the committee to form a team.
Open a separate investment account and build up savings for future.
Further information please refer to the annual report.