The Institution of Engineers Sri Lanka, NSW Chapter Executive Committee 2016/2017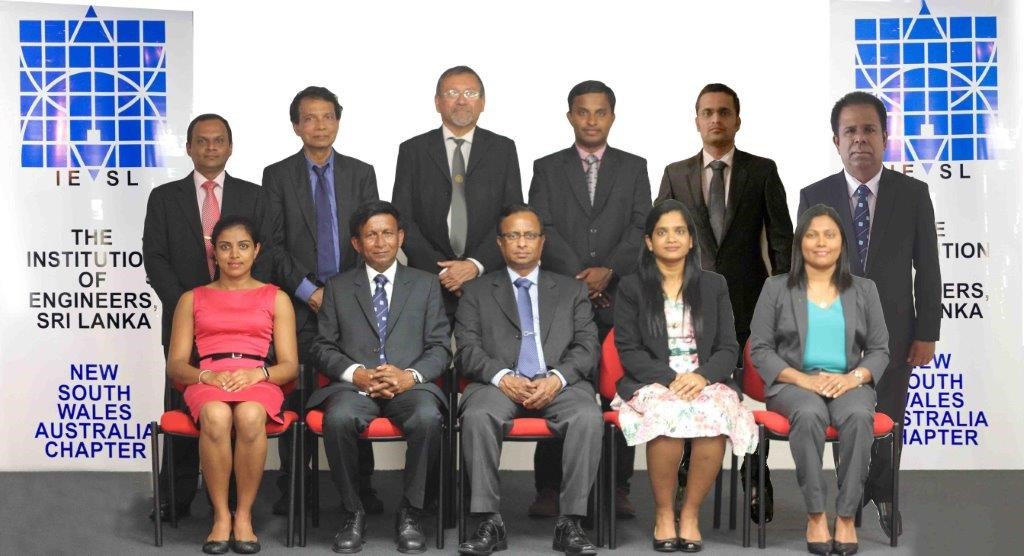 Eng. Dayantha Jayarathna (Chair)

Eng. Amali Wickramasinghe (Committee Member)

Eng. Ananda Herath (Immediate Past Chair)

Eng. Madhuka Jayawardhana (Committee Member)

Eng. Bandula Subasinghe (Vice Chair)

Eng. Prathapa S Ravindra (Committee Member)

Eng. Rohitha Silva (Secretary)

Eng. Pubudu Jayathilaka (Committee Member)

Eng. Mahendram Manoharam (Treasurer)

Eng. Sarath Wijayapala (Editor)

Eng. Buddhi Wijerathna (Web Content Manager)
 A brief summary of events including the highlights, in the Management Committee's term of office
AGM of IESL NSW Chapter was held on 06th October 2016 where the 8th Management Committee was elected.
IESL NSW chapter organised an event to introduce 'Real Life Humanitarian Engineering Project' as a student led activity at UNSW Sydney, Engineers without borders. This project had a direct impact on a community in Sri Lanka that had been affected by CKDU for the past three decades.
With the sponsorship of IESL NSW Chapter, Engineers without Borders launched a School Outreach Program to promote Engineering among Sri Lankan students with the intention of promoting the concept of rebuilding the community through expertise present within universities in Sri Lanka and overseas.
1.  Knowledge Sharing Lecture Series
"June 2016 NSW Storm- Refining Critical Design Conditions for Breakwaters Using Measured Storm Damage" By Eng. Indra Jayawardena on Wednesday the 23rd of November 2016.
"Managing Stakeholders in a Complex Rail Project" By Eng. Sudath Amaratunga on Wednesday the 22nd of February 2017.
"Active Noise Control Inside Enclosures" By Prof. Thushara Abhayapala on 23rd of August 2017.
2.  IESL NSW Chapter conducted the Young Engineers Day on 12th April 2017 where 4 presenters shared their research findings as follows.
Eng (Dr) Priyanath Ariyarathne, a Geotechnical Engineer at SMEC Australia Pvt. Ltd. presented "Numerical Modelling of Geosynthetic Reinforced Pile-Supported Embankments".
Eng (Dr) Gayani Chandrasena, Graduate Engineer at SMEC Australia Pvt. Ltd. presented "Pollutant Removal Performances of Laboratory-Scale Biofilters".
Eng Janindu Arukgoda, Masters in Engineering student at the University of Technology, Sydney, presented "Bogeys: Autonomous Hexacoptors".
Buddhi Ranasinghe and the Humanitarians Without Borders – a team of undergraduate students lead by engineering undergraduates from the University of New South Wales, presented their experience in conducting projects on "Bridging the gap between university and community".
3.  Industrial Visit
Chapter organised an Industrial Visit to the nbn Discovery Centre in North Sydney. It was well attended and conducted two sessions with enthusiastic participants.
4.  Newsletter
IESL NSW Chapter published 2 newsletters which introduced a web based newsletter as a convenient way of presenting news without the limitations of a formatted structure. Readers were able to see the front page of the newsletter with highlights of the content and details were hosted in the website. Using this method it had the opportunity to monitor the number of readers visiting each page.
5.  Engineering conference
The Engineering Conference was held on 2nd of June 2017 at the EA auditorium in Chatswood. Engineering Excellence Awards were presented in the following 3 categories.
Best paper published
Best innovation
Best infrastructure development project
The winners of the awards were as follows.
Best paper published
Dr. Damith Mohotti for his publication "Polyurea Coated Composite Aluminium Plates Subjected to High Velocity Projectile Impact".
Eng, Hiruni Kolamunna for the publication "Enabling Application Function Virtualization and Scheduling in Wearable Networks".
Best Innovation
Professor Karu Esselle for "Out to In: Converting an On-Body Wireless Biotelemetry System to an Implantable In-Body System"
 Best Infrastructure development project
 S.P.G. Mahanama for his role in the Early Warning Systems in number of countries in Caribbean region
6.  Sponsorships
Chapter received four sponsorships for the Engineering Convention from Sayura Beach Hotel, in Unawatuna Sri Lanka, University of Technology Sydney, SMEC Australia Pty Ltd and Jadecross Lighting Solutions
7.  IESL NSW Engineers Gala Dinner
The Institution of Engineers Sri Lanka, NSW Chapter (IESL NSW Chapter), Engineers' Nite 2017 was held on 3rd of June 2017 at Hornsby RSL. This was held in grand style for the sixth consecutive time. The Chief Guest of the Gala Nite was the Sri Lanka Consul General for New South Wales and Queensland, Mr. Lal Wickramatunga. The other invitees were President of the Institution of Engineers Sri Lanka, Eng. Jayavilal Meegoda, President of Engineers Australia, Sydney division, Ms. Julie Mikhail, President-elect for the World Federation of Engineering Organisations (WFEO), Dr. Marlene Kanga. Key note speech was delivered by Emeritus Professor Rohan Joseph Lucas.
8.  Working with IESL headquarters and EA
Relationship between Engineers Australia (EA) and the Chapter was maintained at a high level throughout this year. IESL President Eng Jayavilal Meegoda, IESL Chapter Chair Eng. Dayantha Jayarathna and Past Chair Ananda Herath met with the Engineers Australia Sydney Division President Julie Mikhail and membership coordinator.
During this year, relationship with IESL headquarters was well maintained through regular conversations with IESL President Eng. Jayavilal Meegoda, President-Elect Eng. Prof. Niranjanie Rathnayake, and Current CEO Eng. Neil Abeysekera.  NSW Chapter Chair Eng. Dayantha Jayarathna visited IESL HQ and had a meeting with President and CEO in April (2017). Many important issues were discussed and decisions were made particularly about the settlement of membership fees on annual basis.
IESL NSW Chapter made a contribution of Rs. 100,000.00 through the allocation of membership fees collected in Sri Lanka. In addition the Chapter contributed an amount of $250.00 towards the Flood Relief Fund organised by the Sydney Sri Lanka Consul General Office. Out of this $250.00, $180.00 was collected at the Engineers conventions as donations.
Further information please refer to the annual report.