The Institution of Engineers Sri Lanka, NSW Chapter Executive Committee 2012/2013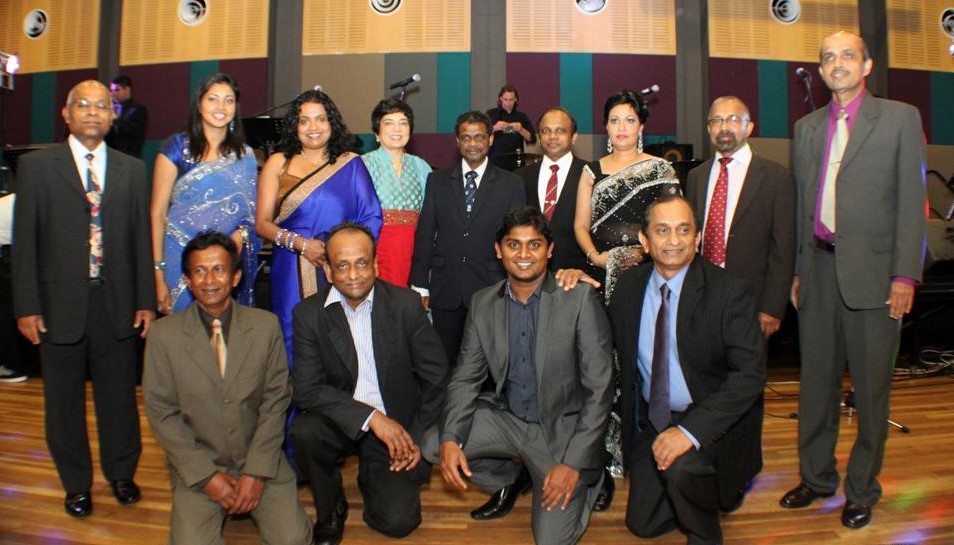 Late Eng. Kamal Fernando – Chair
Eng. Ananda Herath – Committee Member
Eng. Maya Amaraweera – Immediate Past Chair
Eng. Maha Mahadeva – Committee Member
Eng. Mahinda Karunaratne – Vice Chair
Eng. Sunil Wagasooriya – Committee Member
Eng. Waruna Kaluarachchi – Secretary
Eng. Udeshini Pathirage – Committee Member
Eng. Priyadarshanie Weeraratne – Treasurer
Eng. Dushmantha Thalakotuna – Web Master
Eng. Roy Abeygoonawardana – Editor
In the photo Eng. Tilak De Silva (IESL President), Dr Marlene Kanga (EA President)
 A brief summary of events including the highlights, in the Management Committee's term of office
AGM of IESL NSW Chapter was held on 07 October 2012 where the 4th Management Committee was elected.
1.  First ever meeting between IESL and EA
First ever meeting between two presidents of the institutions and it opened doors for further bilateral discussions in future. The meeting was held on 3rd of June at Engineers Australia, Sydney office in Chatswood and attended by Dr Marlene Kanga, Eng. Tilak De Silva, Mr Rupert Grayston (EA Deputy Chief Executive Officer), Prof Robin King (EA Chair of Sydney Accord), Dr David Robinson (EA Director Education and Assessment), Mr Richard Hanna (EA Executive Operations Manager) and Late Eng. Kamal Fernando. It was a very fruitful meeting and the following topics were discussed.
The process of getting the full accreditation of Washington Accord;
Accreditation process in Sri Lanka and shortcomings;
Engineers Australia's E-charter process;
Mutual promotion of activities and lecturers; and
In long term mutual acceptance and recognition of degrees and charters.
During the meeting, EA expressed the willingness to support the professional development of the IESL members by running professional development workshops for them and to become Chartered in Australia.
2.  Washington Accord
The Washington Accord is an independent agreement for mutual recognition of accredited engineering programs among a group of countries that was formed in 1989. There are two levels of memberships in this group:
The Signatories – or full members – that consist of 14 countries including Australia, UK, USA, Canada, and New Zealand.
The Provisional Members including Sri Lanka, India, Pakistan, Bangladesh, Germany and Russia.
2012/13 committee worked hard for Sri Lanka to become Signatory to Washington accord. The importance about becoming a signatory is the mutual recognition of equal status of   Professional Engineers within the Signatory countries.
3.  Knowledge Sharing Lecture Series
Committee arranged the following three knowledge sharing lectures which were held at the Engineers Australia auditorium at Chatswood.
Indra Jayawardene (NSW Public Works) – Ocean Swimming Pools
Asanga Wanigatunga (VMware) – Cloud Computing
Methsiri Aratchige (Origin Energy) – National Electricity Market
4.  First Ever Live Stream Lecture
During the year, the Chapter Chair was honoured by the opportunity to deliver the first ever IESL live streaming lecture through Skype to an IESL audience in Colombo and Kandy and several other countries such as Australia, USA and New Zealand
5.  Young Engineers day
Three young engineers presented following research finding to the audience at the Engineers Australia Auditorium.
Darshana Perera (PhD candidate, University of Wollongong) – "Soft Soil Improvement using Vacuum Preloading"
Lashika Medagoda (PhD candidate, University of Sydney) – "Ocean Observation and Navigation"
Chaminda Konthesingha (Research Associate, University of Newcastle) – "Cyclic In-Plane Shear Behavior of Unreinforced Masonry Wall Panels strengthened with NMS FRP Strip"
6.  Newsletters
IESL NSW Chapter published 4 newsletters which communicate the activities of the Chapter, inform readers of the current engineering developments in our neighbourhood and highlight the achievements of our members.
7.  IESL NSW Engineering Excellence Awards and Engineering Convention.
This committee held the Engineering Excellence award for the second time to recognise the commitment of engineers of Sri Lankan background living in NSW, for the wellbeing of the community and the environment, and the innovative and excellent levels of engineering solutions they deliver.
This year the Chapter extended Engineering Excellence Awards to three categories,
They were;
Best paper published,
Best Innovation and
Best Infrastructure development project.
Thirteen very high-quality submissions were received from various fields of expertise.
The Engineering Conference was held on 31st May 2013 at the EA auditorium in Chatswood.
This year's Engineering Excellence Awards were presented at the Gala Dinner to the following recipients
Best paper published
 Winner – Eng. Nayoma Tennakoon of University of Wollongong – The Role of Ballast – Fouling Characteristics on the Drainage Capacity of Rail Substructure.
Best Innovation
 Highly Commended – Eng. Udaya Peeligama of Sydney Catchment Authority – Warragamba Dam Crest Gate Upgrade.
 Winner – Eng. Janaka Weeraratne of State Water Corporation – Fish River Water Supply pipeline replacement project.
Best Infrastructure Project
Highly Commended – Eng. Sanjeevi Sathianandan of RailCorp – Minnamurra railway bridge retransforming.
Winner – Eng. Dilini Kumarasinghe, Eng. Rohini Ramachandran, Eng. Kandiah Tharumalingam of NSW Public Works – Lithgow Sewerage Augmentation.
8.  Sponsors
This year the Chapter was able to attract very important sponsors from both private sector and public sector. This is recognition of IESL members' contribution to NSW. This year's sponsors were
Gold Sponsor – NSW Public Works
Silver Sponsor – Fulton Hogan
Bronze Sponsors – Sydney Catchment Authority, SMEC, Aquatec-Maxcon, Dulux
9.  IESL NSW Engineers Gala Dinner
The Engineers Nite Gala Dinner was held on 1st June at Castle Grand, Castle Hill.  This was attended by 300 guests and was graced by the Sri Lanka Consul General, and the Presidents of IESL and Engineers Australia.
The Keynote speech at the Gala Dinner was delivered by the National President of Engineers Australia Dr Marlene Kanga. Dr Kanga talked about the important role of engineers and engineering in Asian countries. She explained why the engineers with links to Asia especially those who were born there have a major role in developing Australia's strategy for greater engagement with Asia. Dr Kanga also offered Engineers Australia's assistance for Sri Lankan Universities to obtain the full membership of Washington Accord.
IESL President Eng Tilak De Silva talked about the improvements at IESL; membership management, head office building, financial management and web site. Tilak also provided a progress report on the initiatives for a legal framework for setting standards for practicing engineers – currently awaiting Cabinet approval and improving engineering education standards. He also stated that some delegation of powers for membership functions will be transferred to Provincial Chapters to reduce travel/ inconvenience for members.
10.  Assistance for newly migrant Engineers
A key objective of forming the IESLNSW Chapter is to assist recently migrated engineers from Sri Lanka in finding suitable employment in Australia.  One of the main problems they face is the lack of knowledge of the Australian job application process.
An action plan was drawn up by the committee to introduce a sustainable mechanism to assist new arrivals in finding jobs and it was implemented.  A section in the Chapter website has been dedicated to providing useful initial information regarding the engineering profession in Australia, government-funded job skill training courses and details of companies providing insurance cover for voluntary employment.
The Chapter undertook to build a register of potential mentors among the Sri Lankan engineering community in NSW.
In addition, when there are a sufficient number of job seekers available, the Chapter intended to engage suitable resource personnel to conduct seminars/workshops on the Australian workplace culture and other current topics helpful for job seekers
11.  Book donation to University of Jaffna Engineering Faculty
As part of helping engineering education in Sri Lanka, the chapter delivered 26 much needed Civil Engineering textbooks to the Library of the Faculty of Engineering, University of Jaffna, Kilinochchi. The books were delivered by an IESL delegation comprising of the president, the president-elect, Chairman of ICT committee and the President of IESL Northern Province
12.  Donations to IESL headquarters
With part of the proceeds from Engineering Convention 2012, the Chapter was able to donate $5,100 worth of equipment to the headquarters. The equipment included the following:
iMac for video editing and multimedia activities
HP LaserJet printer for SLEN and Certificate printing
Three node NComputing system with screens for the library
Apple final cut X pro for video editing
13.  Participation at Techno 2013
During this period committee worked towards to participate in IESL's Techno 2013. The Chapter sponsored a small booth highlighting road safety in Sri Lanka.
Further information please refer to the annual report.