The Institution of Engineers Sri Lanka, NSW Chapter Executive Committee 2014/2015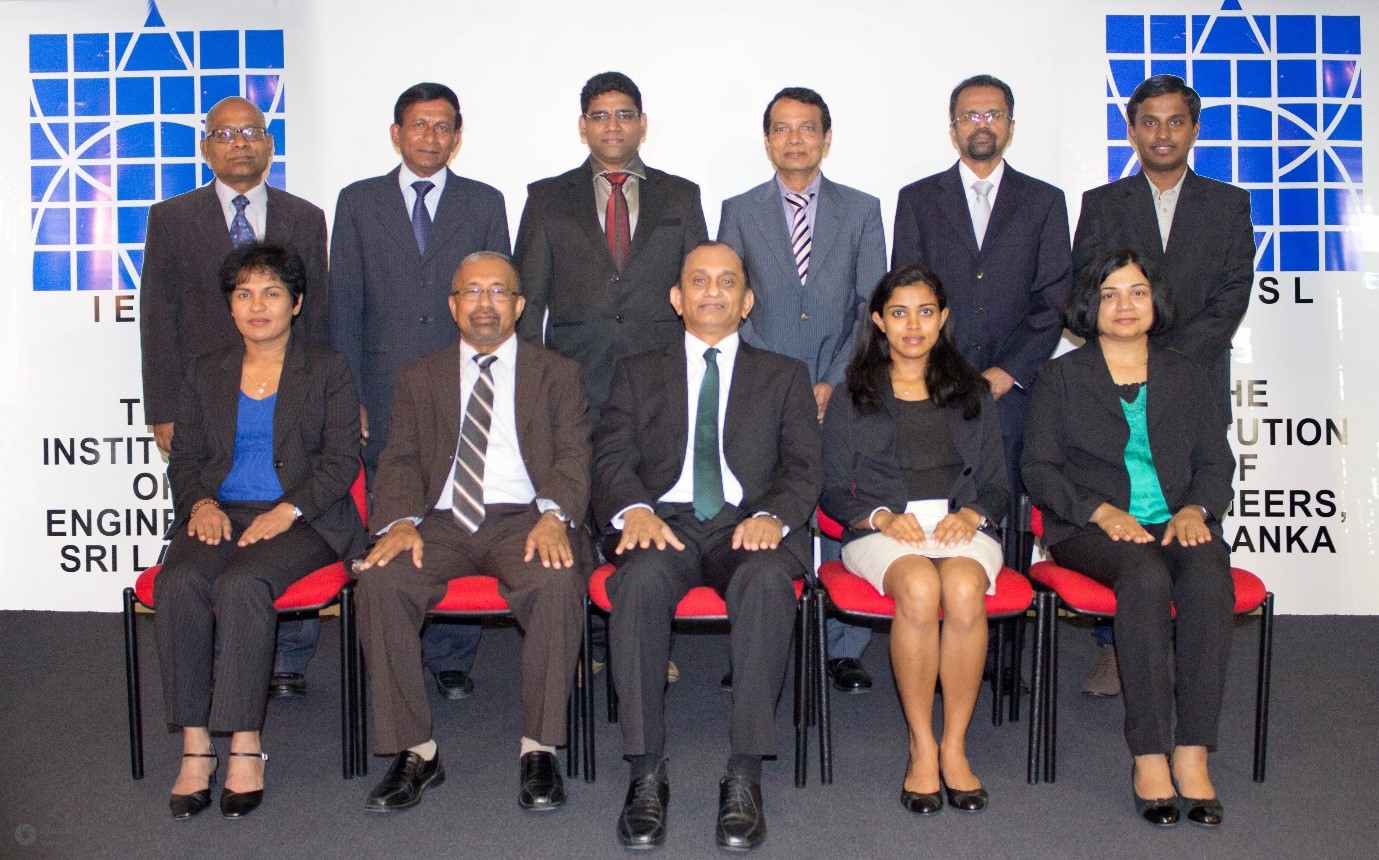 Eng. Waruna Kaluarachchi – Chair
Eng. Buddhi Wijerathna –  Committee Member
Eng. Mahinda Karunaratne – Immediate Past Chair
Eng. Madhuka Jayawardhana –  Committee Member
Eng. Dayan Gunasekera – Vice Chair
Eng. Maha Mahadeva – Committee Member
Eng. Dilupa Nakandala – Secretary
Eng. Prathapa S Ravindra – Committee Member
Eng. Ananda Herath – Treasurer
Eng. Sinniah K. Navaratnarajah – Committee Member
Eng. Thamarie Jayasinghe – Editor
Eng. Dushmantha Thalakotuna – Web Master
A brief summary of events including the highlights, in the Management Committee's term of office
AGM of IESL NSW Chapter was held on 05thOctober 2014 where the 6th Management Committee was elected.
1.  Knowledge sharing lectures and industrial visits
The following three knowledge sharing lectures were held at the Engineers Australia auditorium in Chatswood.
Lecture 1: Professor Anura Jayasumana ‐ 'Internet' to 'Internet of Things' to 'Internet of Everything'
Lecture 2: Adjunct Professor Eng. Wije Ariyaratne ‐ The RMS bridge load assessment process for freight vehicles
Lecture 3: Dr Annalisa Contos – "We all make mistakes: Human factors and preventive risk management"
Industrial Visit 2015 – Warragamba Dam Sydney Catchment Authority was facilitated by chapter member Eng. Udaya Peeligama.
2.  IESL NSW Chapter Young Engineers Day
Young Engineers Day was facilitated by the committee members Dr (Eng.) Madhuka
Jayawardhana, and Eng. Buddhi Wijeratna. The following four presenters shared their research findings/experience at the Engineers Australia Auditorium.
Senaka Ekanayake a postdoctoral research fellow at the Institute of Infrastructure Engineering, Western Sydney University presented on the "Application of EPS geofoam in attenuating ground vibrations during vibratory pile driving"
Athmi Jayawardane, a PhD candidate at the University of Wollongong presented her research on "Capability Chart as a new tool for grid‐tied microgrid operation".
Kasun Thotahewa, an electromagnetics research and development engineer at Commscope Inc., Sydney presented on the "Wireless communication for implantable and wearable biomedical devices".
Harini Kolamunna, a PhD candidate at the School of Electrical Engineering and Telecommunication, University of New South Wales, Sydney presented on the "CapacityConstrained Hazard Awareness Navigation in a Fire Emergency: A Heuristic Approach".
3.  IESL NSW Chapter Engineering Excellence Awards
The Institution of Engineers Sri Lanka (NSW Chapter) presented Engineering Excellence Awards for the 4th time in the following three categories:
Best paper published
Best innovation
Best infrastructure development project
Best Paper published
Excellence Award-
Assessment of optimum width and longevity of a permeable reactive barrier installed in an acid sulphate soil terrain by Eng.  Udeshini Pathirage
Highly commended Award:
Early detection of spam mobile apps by Eng. Suranga Seneviratne
Best Innovation
Excellence Award:
An Impulse Radio Ultra‐Wideband (IR‐UWB) wireless capsule endoscopy device by Eng. Kasun Thotahewa
Highly commended Award:
Computer vision based indoor localization module for multi‐rotor aerial vehicles by Eng. Dinuka Abeywardena
Best Infrastructure development project
 Excellence Award:
 Young sewage treatment plant, reuse scheme and sewer network by Eng. Deependra Puswella
Highly commended Award:
Transmission line modelling using Power Line Systems Computer Aided Design and Drafting (PLS‐CADD) simulating tools and Light Detection and Ranging (LiDAR) technology by Eng Amali Wickramasinghe.
4.  Engineering Conference
The Engineering Conference was held on the 12th June 2015 at the Engineers Australia Auditorium in Chatswood. The main highlight of this conference was the presentation of six selected submissions for Engineering Excellence Awards 2015. It was a well‐attended, informative and interesting session.
The Keynote speech was delivered by Professor Karu Esselle, Macquarie University Sydney. In his speech he explained the structure of IEEE and its' activities in the global context.
The President of IESL Eng. (Dr) S B Wijekoon in his speech, highlighted the ongoing development
projects in Sri Lanka and contributions that can be made by experienced engineers from countries such as Australia.
5.  IESL NSW Chapter Engineers Gala Dinner
The Gala Dinner was held on 13th June 2015 at Castle Grand, Castle Hill. President of the Institution of Engineers Sri Lanka Eng (Dr) S B Wijekoon, President of Engineers Australia ‐ Sydney Division, Bruce Harvard, National President Engineers Australia 2013 Dr Marlene Kanga graced this occasion. This event was attended by well over 300 engineers and their spouses, industry experts and academia; and was sponsored by NSW Public Works (Gold sponsor), Fulton Hogan and DULUX.  It was a fun filled evening with thought provoking speeches from leaders in the engineering community. It also included entertainment by a traditional Mexican Dance group and the presentation of Engineering Awards to six outstanding submissions. The keynote speech was delivered by the Scientia Professor Veena Sahajwalla, Founding Director of the SMaRT Center the University of New South Wales.
6.  IESL and EA Sign MOU – Mutual recognition of International Professional Engineers Registry in each other's' country.
The Institution of Engineers, Sri Lanka (IESL) entered in to a five-year agreement with the Institution of Engineers, Australia (Engineers Australia) to facilitate the mobility of Professional Engineers from one country to the other. The agreement was signed when the President of IESL, Eng. (Dr) S B Wijekoon met with the National President of Engineers Australia, Dr David Cruickshanks‐Boyd on June 17, 2015 in Canberra, Australia. Based on this agreement both IESL and Engineers Australia are authorised to register International Professional Engineers in their respective countries as being members of the International Professional Engineers Agreement.
Pursuant to this Agreement, applicants whose names appear in the International Professional Engineers Register of IESL or the Chartered Professional Engineers of Engineers Australia will qualify for registration/licensing by the other Institutions if they agree to abide by the laws, rules, regulations and ethical standards and meet the continuing competency assurance requirements as set out by the latter Institution. They will have to declare any previous application for registration/licensing and complete an application form and pay any fees required.
This agreement will not apply to engineers who have obtained their registration/licensing in their home countries through the respective Institutions by means of a mutual recognition agreement involving a professional association of a third Institution.
7.  Assistance for newly migrant engineers
The Chapter prepared a set of guidelines with regards to job application process in order to provide a forum for newly migrated engineers to develop an on‐going relationship by discussing matters relating to advancement of their professional career or continuation of their overseas career progression in Australia within an organised and supportive framework.
The Chapter maintained a database of mentors in various disciplines so that a suitable mentor could be selected for a mentee when requested upon. So far, we have only a few. We need more from every discipline
8.  Working with IESL headquarters
NSW Chapter Chair had two meetings with the IESL President, Council members and secretariat staff in person during the year. These meetings were held in IESL head office Colombo. The following issues were discussed in these meetings and some of them were resolved amicably.
Engineers Australia, CPEng members to get IESL Charted Professional Engineers status.
Outstanding membership applications
Matters of mutual interest including setting up of a Queensland Chapter
In addition, the NSW Chapter Executive Committee members held a meeting with the IESL President during his visit to Sydney. IESL NSW Chapter's intention to help knowledge sharing in several key areas was discussed during this meeting.
9.  Improvements to Chapter Facebook and Website
The chapter website has undergone a hosting transfer to provide seamless availability. Eng. Nihal Fernando offered web hosting with Cloud DIRECT free of charge to IESL NSW Chapter.  It was also decided to use the Facebook page actively to communicate with members and other interest groups.
Further information please refer to the annual report.