Engineering Conference and Gala Night 2018
The IESL NSW Chapter Engineering Convention 2018 and Gala Nite were held on Friday June 8 and Saturday June 9 at the Engineers Australia Auditorium at Chatswood and the Hornsby RSL Club, respectively.
Engineering Conference 2018
A gathering of over 70 attendees were present at the Engineers Australia Auditorium for the event which commenced at 6.00 pm with Eng. Dayantha Jayarathna performing the duties of the Master of Ceremonies for the evening in an accomplished manner. The Chief Guest for the occasion was Emeritus Professor (Mrs) Niranjanie Ratnayake, the President of IESL, who had travelled all the way from Colombo to be present.
The proceedings included the presentations for the IESL NSW Chapter Engineering Excellence Awards, held annually for awards under three categories:
Best paper published in a professional forum.
Best innovation and / or invention.
Best achievement and / or contribution in an Applied Engineering project.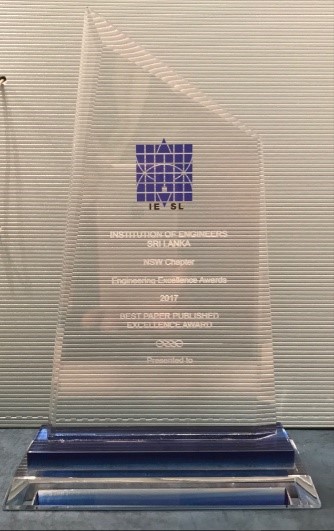 The Engineering Excellence Awards are to recognise the contribution of engineers with Sri Lankan background living in New South Wales or the Australian Capital Territory for ecologically sustainable development and wellbeing of the community.  In addition, it recognises cost effective, innovative and excellent engineering solutions delivered by individuals or teams in their professional capacities.
Each technical document submission was evaluated by a panel of five adjudicators with different engineering and/or professional background and expertise in the industry. Submissions considered suitable for awards were shortlisted for presentation. The shortlisted applicants were invited to make a fifteen minutes' presentation at the IESL NSW Chapter Engineers' Convention. Each technical submission and presentation was evaluated based on the evaluation criteria below:
Scope of the nominee's involvement
Originality
Innovation or/and invention
Value to the community and environmental sustainability
Solutions to an engineering challenge, and
Demonstration of sound engineering science in both practice and principle.
The following seven submissions were shortlisted for presentation consisting of three for best paper published and two each for the other two categories. This year, two awards, one for highly commended and the other the winner, were to be awarded for each category.
BRC Tool to manage service reservoirs to achieve satisfactory disinfection at the customer tap
By Prof. (Sathaa) Arumugam Sathasivan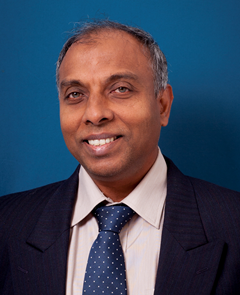 Prof Sathaa obtained his Bachelor's degree with Honours in Civil Engineering from University of Peradeniya, Master's degree in Environmental Engineering from Asian Institute of Technology and his doctoral degree (PhD) in Water Quality Engineering from University of Tokyo. Prof Sathaa, has a sound mix of industrial and academic experience from around the world which has attracted $4 million in funding for research and consultancy. He uses biotechnology to maximize the effectiveness of technologies, especially in Water and Wastewater Engineering. He joined Western Sydney University in 2012 after leaving Curtin University. Prior to joining Curtin, he worked with Sydney Water as a Water Quality Scientist for six years. He was an Assistant Professor in Asian Institute of Technology for two years. In Sri Lanka he worked with University of Peradeniya and later with Colombo Municipal Council.
In this project, the BRC Tool was developed to inform the operator if any action has to be taken to prevent nitrification which is previously unpredictable. Therefore, the Tool can drastically reduce unnecessary intervention and excessive sampling to understand the status of the water quality and hence provide substantial cost savings in sampling, tablet chlorine dosing, and analysis and ensures better disinfection to the customers. The Tool was successfully trialled in Sydney Water.
Excess Pore Water Pressure Generation and Mud Pumping in Railways under Cyclic Loading
By Eng. Aruni Abeywickrama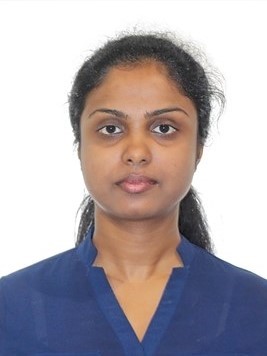 Aruni obtained her Bachelor's degree with First Class Honours in Civil and Environmental Engineering from University of Ruhuna in 2016. She has been working with the department of civil engineering at the University of Ruhuna as a temporary lecturer, before commencing her doctoral studies in 2017, at the Australian Research Council Centre of Excellence for Geotechnical Science and Engineering (CGSE) at the University of Wollongong, under the supervision of Distinguished Professor Buddhima Indraratna.  In her doctoral studies, she is researching about Mud pumping in railways due to use of heavy haul trains in Australia.
This paper presents a critical review of the role of excess pore-water pressure generation on mud pumping in railways under cyclic loading.
Nowadays, there's a huge demand for rail transportation for both passengers and freight. High speed heavy haul trains is an attractive solution for the increasing demand in freight transportation. Due to these high speed heavy haul trains which passes through vulnerable areas with poor subgrade, rail tracks deteriorates rapidly. Among the rail track failures, mud pumping is considered to be a worst degradation phenomenon. Mud pumping is the phenomenon in which the fine particles from the subgrade migrate to the ballast layer due the excess pore water pressure generation under cyclic loading. When mud pumping occurs frequent maintenance should be done on rail tracks. Therefore, it is a timely requirement to find a solution to mitigate mud pumping.
Energy Efficient and Sustainable Engineering Services Design for Endeavour Energy FSC Springhill
By: Eng. Bandula Subasinghe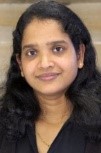 Bandula received her BSc Engineering degree in Electrical (Power) Engineering with second class Honours from University of Moratuwa in 2004. She has over 13 years of experience in building services engineering consultancy and multi-disciplinary project management in Sri Lanka, The United States of America and Australia. She possesses knowledge and experience in residential, retail, commercial and Industrial building services projects. Bandula has obtained expertise in internal and external lighting, power, security & CCTV, lightning protection, fire detection, exit & emergency lighting, voice & data communications, Nurse call systems and audio-visual systems designs. She has special interests on designing age care and healthcare services projects. She is currently working at Arrow Consulting Engineers as a Senior Electrical Consultant Engineer.
This project represents an example of a cost effective, fully compliant, energy efficient and sustainable electrical services design for an industrial/commercial building. 
Main challenge associated with this project was to provide a cost-effective but fully compliant design to meet the construction time frame. On time quality error free deliverables were the most important aspects for the client to meet the construction programme while maintaining the initial design requirements. The complex data centre power and communication cabling design and distribution structure provided additional engineering design challenges to the project. To maintain N+1 redundancy for the power supply distribution structure to provide reliability within the data centre and other critical areas throughout the facility, the power distribution system was designed by introducing two separate mains power supplies, two sets of backup generators and a 1000kVA large UPS system. Introduction of N+1 redundancy for the power distribution system eliminated the risk of data losses during any sort of power outages within the area. The aim of the lighting design was to develop a lighting system which is fully compliance with the relevant codes and Australian standards such as NABERS ratings and BCA section J requirements. Meeting the energy efficiency targets while maintaining the pre-defined electrical system budget added extra weight to the lighting design.
The use of Under Sleeper Pads to improve the performance of rail tracks
By Eng. Chamindi Jayasuriya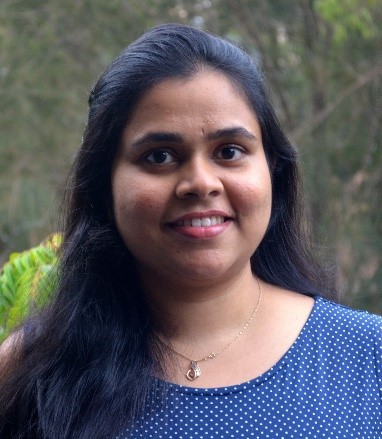 Chamindi is a Civil Engineer and graduated from University of Moratuwa in 2013. She then worked as a research assistant at University of Moratuwa for one year while doing her Master's degree in Highway Engineering. Currently, she is studying for her doctoral degree at the University of Wollongong. She is researching to improve track performances and reduce fast degradation of foundation granular layers using elastic elements in the track substructure.
This paper presents a study conducted at the University of Wollongong, to improve track performance by USP as a resilient element in the substructure containing a relatively stiff subgrade.
In conventional ballasted railways, increased stresses in granular foundation lead to progressive degradation, and this resulted in excessive vertical and lateral deformation, fouling, and poor drainage etc. Ballast degradation is one of the primary reason, which attributes the highest percentage of track geometry deterioration. Increasing axel loads and higher loading frequency generated due to higher train speeds accelerate the ballast degradation and rate of plastic strain accumulation. Finding an economical solution to mitigate ballast degradation was a challenging task for the researchers and use of elastic pads seems to be an attractive and innovative solution. Therefore, a study was conducted at the University of Wollongong, to improve track performances and reduce fast degradation of granular foundation layers using elastic elements in track substructure. In this research, the performance of ballasted rail track on stiffer subgrade has been evaluated with the presence of rubber pad under the concrete sleeper (Under Sleeper Pad –USP). This can be proposed as an environment-friendly solution as an increase of ballast life requires less aggregate quarrying, and waste tires can be recycled to make under sleeper pads, which provides a solution to waste tire accumulation all over the country.
Technology Driven Proactive Assets Management System Developed for GIS MAP Enabled GPS Tablet Computers
By Eng. Manori Suriyarachchi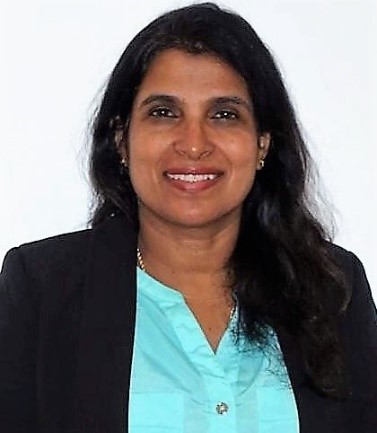 Manori obtained her Bachelor's degree (Hons) in Civil Engineering from University of Moratuwa in 1994. She obtained her Graduate Certificate in Information Technology in 2003 and Master's degree in Engineering Studies in 2007 and from University of Technology Sydney. She is a Microsoft Certified System Engineer, Sun Certified Java Programmer. She has over 20 years of experience in various civil engineering disciplines.  She has been working as an Asset Management Systems Engineer at Hornsby Shire Council, Hornsby since 2008.
In this project, a technology driven proactive asset management system has been developed for Hornsby Shire Council with the use of GIS mappings, integrated into GPS PC tablets.
 The system was developed using ArcPad Studio and VBScripts to record asset condition data and asset inspection data to replace hand written hard copies and spread sheets. MS Access reports are used to create asset work programs and to show work summary. Backed up and displayed data on maps show historical information of the assets. That would help to monitor asset performance and give enhanced ability to defend liability claims by evidentiary record of inspection. The system is in full operation in the council and has helped council, community, and environment in many ways. This innovative concept and its subsequent developments lead to reduction of public risks liability by reducing the risk of unexpected injuries to the community, improved work efficiency, more accurate records and share recorded data, up-skilled work crews in the use of computer reporting technology and enabled paperless work environment within the council.
An innovative design: Mitigation Vehicle Windscreen Spearing Risk from Road Signs
By Eng. Nilindu Muthubandara
Nilindu obtained her Bachelor's degree with Honours in Materials Engineering from University of Moratuwa and her Master of Philosophy in Mechanical Engineering from The University of Newcastle. She also holds a Graduate Certificate in Project Management from The University of Technology Sydney. Nilindu possess specific experiences in road safety auditing, speed engineering, safety barrier systems, policy development, engineering project management, multi-disciplinary engineering research and asset and risk management. Nilindu has worked as a Project Engineer and Senior Project Engineer in Roads and Traffic Authority in NSW. Currently, she is working as a Research & Policy Analyst at the NSW Centre for Road Safety of Transport for New South Wales. she leads the Roadside Furniture Crash Testing Program for the NSW Centre for Road Safety.
In this project, a simple and low cost treatment was developed that could be applied to existing high risk signs and new road sign designs. This treatment can also be applied to any road sign at a T-intersection to improve road safety by reducing the risk of spearing the vehicle windscreens. This new research will lead to a safer road environment for motorists.  
Fatal incidents have occurred in Queensland and New South Wales involving sight boards spearing through vehicle windscreens.  These crashes occurred at rural T-intersections where the impacting vehicle was travelling at high speed on the continuing carriageway.  An innovative research program was undertaken to test various end treatments with the aim of preventing penetration of the sign into the occupant space.  The research outcome sought was a low cost end treatment that could be applied to both new sign designs and existing signs.  High speed vehicle have demonstrated that the signs can be prevented from entering the occupant space of the vehicle.
Influence of Osmotic Suction and Tree Roots on the Stability of Coastal Soils
By Eng. Pubudu Jayathilaka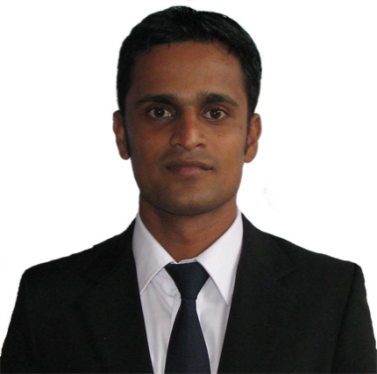 Pubudu obtained his Bachelor's degree with First Class Honours in Earth Resources Engineering from University of Moratuwa in 2010. He then joined as a temporary lecture with the Department of Earth Resources Engineering. He worked with HOVAEL Constructions Pvt Ltd as a Materials Engineers for roads and bridge construction works in 2011. Later, he joined with VV Karunaratne and Company as a Geo-Technical Engineer and Quality Assurance Manager in 2012, and was involved in two major road construction projects in Eastern province in Sri Lanka. Pubudu temporarily put on hold his industry career as a Project Engineer. He started his doctoral degree in University of Wollongong in July 2016.
This paper summarizes the historical development of studies related to osmotic suction as well as the present situation of osmotic suction for soil shear strength.
Over the last few decades, the population density increase in most of the metropolitan areas has been driving the research on new approaches to optimise the development of infrastructure on unsuitable soils. Typically, those engineering solutions were developed for saturated conditions and ground profile having high water table. However, most infrastructures are built and remains above the ground water table for most of their service life, and thus the soil remains in an unsaturated condition in which the capillary stresses or suction play an important role. Hence, a detail investigation on the impacts of osmotic suction on stability of coastal soils with the influence of vegetation is highly demanding.
The presentations were evaluated for the awards by an independent adjudication panel with the winners to be announced at the Gala Nite on 9 June.
Engineering Excellence Awards Evaluation Panel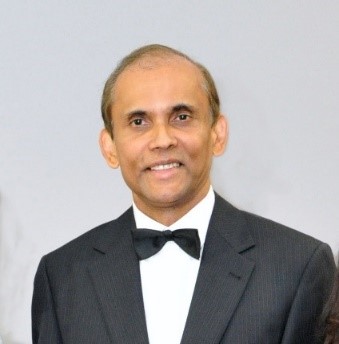 Dr. Chinthaka Fonseka graduated with a first class honours degree in Civil Engineering from University of Moratuwa and the UNESCO Gold Medal in 1985. He joined the academic staff of the Department of Civil Engineering in 1985. He obtained his PhD in Finite Element Analysis of Shell Structures from University of Southampton, the UK in 1990 and served as a Senior Lecturer until he migrated to Australia in 1996. He has published many research papers during his tenure as a Senior Lecturer and received three Best Paper awards from the Institution of Engineers, Sri Lanka. Dr Fonseka is currently a Senior Structural Engineer and a Sector Leader in Health Infrastructure at Cardno (NSW/ACT) Pty Ltd. He is a Chartered Professional Engineer (CPEng) and a member of the National Engineers Register (NER) of Engineers Australia and Asia Pacific Economic Cooperation Engineers (APEC) register. He was instrumental in leading design teams in many projects in Australia that include multi-storey buildings, Healthcare and Forensic facilities, Aged Care facilities, power distribution facilities, warehouses and heavy processing plant structures.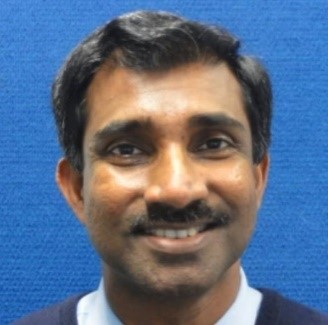 Dr. Jahan Peiris is presently employed as Main System Planning Manager at TransGrid and is responsible for network modelling, system planning, technical design and system performance. Previously he has held variety of positions in the power industry in the areas of power system modelling, analysis, planning and operations. Jahan is a member of IET, IEEE, and is a registered Charted Engineer of Engineering Council, UK. He has contributed to a number of industry technical groups in planning and operation of Australian National Electricity Market including Operations Planning Working Group and Power System Modelling Reference Group, and also has been the industry supervisor for a number of students from University of NSW, University of Wollongong and University of Technology, Sydney. Jahan has also served as a reviewer of IEEE Power Engineering Society transactions paper submissions. Jahan graduated with honours from the University of Moratuwa, Sri Lanka, specialising in Electrical Engineering and received his PhD from the University of Auckland, New Zealand with main interests on power system stability and control.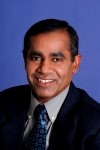 Dr. Premaratne Samaranayake received his PhD from the University of Melbourne and holds BSc Eng. (First Class Honours) in Mechanical Engineering from University of Moratuwa, Sri Lanka; M.Eng from Asian Institute of Technology,  Thailand; and PG Diploma (Computer Science) from Victoria University, Melbourne.  He is actively engaged in broader operations management research and has published a number of papers in top-ranked international journals such as International Journal of Production Research, European Journal of Operational Research, Supply Chain Management: An International Journal, International Journal of Operations and Production Management and Production Planning and Control Journal.  His areas of expertise include supply chain management, logistics, business process management and enterprise resource planning. He completed SAP Certification on Best Practices in ERP (BPERP) and is a certified Solution Consultant of SAP ERP for small and midsize enterprises. Currently, he is a Senior Lecturer at Western Sydney University, actively engaged in research collaborations with industry and has successfully completed a number of research projects in recent times, including engagements with Transport for NSW.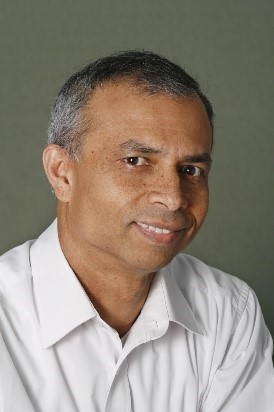 Dr. Ranjith Liyanapathirana received his bachelor's degree in electronic and telecommunication engineering from University of Moratuwa, in 1981 and his MEng and PhD degrees in electrical engineering from Memorial University of Newfoundland, Canada, in 1987 and 1995, respectively. From 1981 to 1983 he worked as an Assistant Lecturer in the Department of Electronic and Telecommunication Engineering at University of Moratuwa.  In 1984 he was a Telecommunications Engineer with Saudi Telecom, Saudi Arabia. From 1985-1993 he was a Graduate Teaching Assistant at Memorial University. In 1994 he moved to Western Australia and worked first as an Associate Lecturer in the Department of Electrical and Electronic Engineering at the University of Western Australia and then as a Research Fellow in the CRC for Broadband Telecommunications and Networking. In 1998, he joined Western Sydney University (WSU) to establish the Telecommunication Engineering program. He is currently a Senior Lecturer in the WSU School of Computing, Engineering and Mathematics. His areas of research interest include digital communication, wireless sensor technologies, microwave imaging and RFID applications in structural health monitoring. He has published over 150 peer-reviewed papers in IEEE/IET conferences and journals. He is a Senior Member of the IEEE and the Australian Computer Society (ACS). He holds an advanced amateur radio license VK6BHV.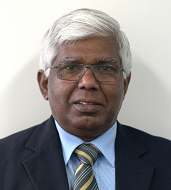 Eng. Yasapala Weerasinghe [MIE (SL), MIEAust, MICE, CPEng, CEng, NER (Aus), RPEQ(QLD, Aus), RIW Aus (designer/verifier)] is a Charted Professional Engineer with over 40 years of experience; twenty-nine years of geotechnical design and reporting, construction advice, design review and verification, business development and management experience in the Australasian region; five years in construction management and contract administration in several international highway construction projects; and five years in design and construction of earth dams and spillways in Sri Lanka. He obtained his bachelor's degree in Civil Engineering from University of Peradeniya in 1976, Master of Engineering in Geotechnical Engineering from Asian Institute of Technology in 1983. At present he is working with Cardno (NSW/ACT) as a Senior Principal Geotechnics / Technical Director Geotechnics.
The proceedings wound up around 9.30 pm with Eng. Udaya Peeligama providing the Vote of Thanks.
Gala Night
The Gala Nite got underway from 6.00 pm at the Hornsby RSL Club on 9 June with welcome drinks and a DVD presentation on the IESL NSW Chapter's activities. After the ceremonial lighting of the oil lamp in keeping with typical Sri Lankan tradition by some of the distinguished guests present, the Chair of the NSW Chapter of IESL Eng. Sarath Wijayapala provided the welcome address.
He welcomed the special guests and all attendees and expressed his satisfaction of being re-united with IESL through Chapter activities, after many years of separation living in Australia. He encouraged all engineers to be more involved in their communities, with the world at large now a global village, and to address the pressing needs of the people whilst being environmentally responsible for their outcomes.
He congratulated the initiatives of Impact Engineers, who are a group of UNSW engineering students working with developing nations to meet their peoples basic needs whilst empowering them to manage their new facilities by themselves
After this Emeritus Professor (Mrs) Niranjanie Ratnayake, the President of IESL addressed the gathering.
The speech made by Professor Ratnayake is provided below:
"I must congratulate all the engineers who presented papers at the Engineering Conference on 8 June, for taking the initiative to write papers on the work they are doing, and present their work at the Conference. In 1906, IESL has been started as the Engineering Association of Ceylon for the purpose of discussing engineering matters by a group of engineers working in the public sector.  Since then, over the 112 years of its existence, even though the activities of the organization have become diversified, the Annual Transactions has been the most important event around which everything else is made up.
We have to acknowledge the fact that the society's demands are getting more and more complex as the living standards become more sophisticated. As engineers, our role has to change, to accommodate the society's demands, being mindful of the fact that we are dealing with the limited resources that the earth can provide for us. This is where our innovativeness is called for. The root Latin word for 'Engineering' is 'Ingenuity' – the quality of being clever, original and inventive, in the process of applying ideas to solving problems or meeting challenges. With the increased population and the more sophisticated lifestyles, the resource utilization has become unbearable to the earth's life supporting system. Our 'ecological foot print' has reached 1.7 last year. This means that we require 1.7 times the natural resources available to us on earth, or 1.7 planet earths, to sustain the human needs, if we continue business as usual. Alarmingly, the 'Earth Overshoot Day' is moving towards the beginning of the year every year – It has moved from late September in 2000 to August 2nd in 2017.
We as engineers have to play a major role in managing this situation. We must make the ecological limits central to all our decision making. Sustainability is not an option, it is the only way. Our research and development activities should be focused on resource efficiency, energy efficiency and clean technologies if we are to make any difference to the 'business as usual' situation. The challenge to engineers today is to find ways and means of doing things that we are trained to do, in a resource constrained world. We need to go for smart, disruptive technologies, understand the nature and natural processes, work with other professionals like natural and social scientists, and most importantly, communicate our ideas and findings to each other, politicians, superiors and subordinates, and the public. Working in isolation is not going to help the world. There is so much of information and knowledge already available, but the bits and pieces have to be put together and the gaps filled by clever people like you, to make sense out of it. Then only we could hope to have an improving trend in the ecological footprint, giving hope for a cleaner, greener planet earth."
Dr Marlene Kanga, President of the World Federation of Engineering Organisations [WFEO] then addressed the gathering.
Synopsis of Dr Kanga's speech:
Dr Kanga congratulated the members and committees of the IESL NSW Chapter for sustaining their growth and relevance to the Sri Lankan Australian engineers who live and work in Sydney and New South Wales.
She stated that 2018 is an important year for the World Federation of Engineering Organisations as it celebrates the 50th anniversary of its founding. This year the event was celebrated at UNESCO in Paris in March 2018 by signing a declaration on the commitment of engineers around the world to advance the sustainable development goals through engineering.
The Federation is also making a bid for 4th March each year, the anniversary of the founding of WFEO, to be declared "World Engineering Day for climate change action and sustainability". If this proposal is approved by UNESCO, it will be an opportunity to celebrate engineering each year around the world. She would very much appreciate a letter of support from IESL and IESL NSW Chapter. She has learned that the Australian Government will be supporting and leading the proposal at UNESCO.
To mark the 50th anniversary of WFEO, she presented a medal to President Prof. Mrs. Niranjanie Ratnayake as a token of mutual respect and affection. She hoped that IESL and WFEO will continue to work together for many years to come.
The Keynote speech was delivered by Professor Karu Esselle of Macquarie University.
Engineering Excellence Awards
 It was then time for the presenting of the Engineering Excellence Awards. Eng. Rohitha Silva conducted the awards ceremony in an impressive manner.
The Engineering Excellence Awards 2018 Winners are indicated below.
Best Paper Published in a Professional Forum Category
The Excellence Award was won by Eng. Chamindi Jayasuriya and award was presented by The IESL President Eng. Prof. Niranjanie Ratnayake.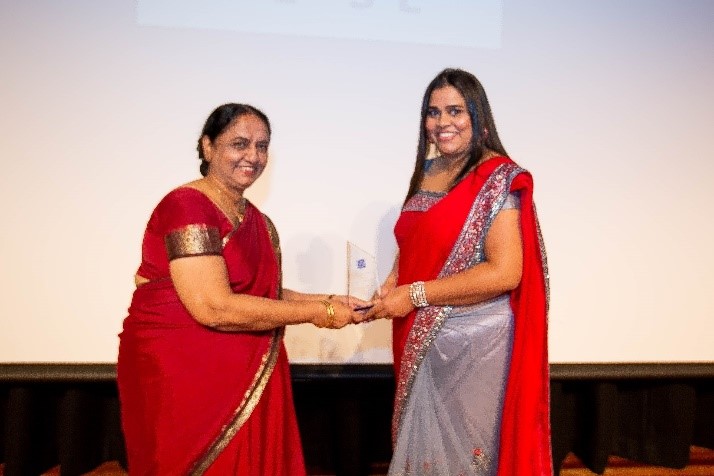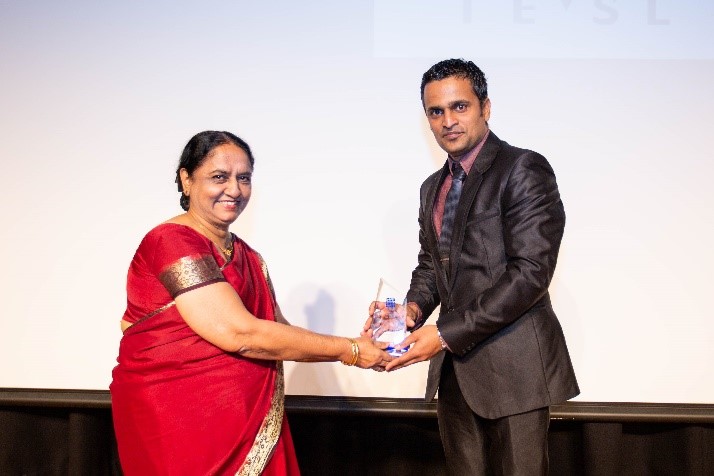 The Highly Commended Award was won by Eng. Pubudu Jayathilaka and award was presented by The IESL President Eng. Prof. Niranjanie Ratnayake.
Best Innovation and/or Invention Category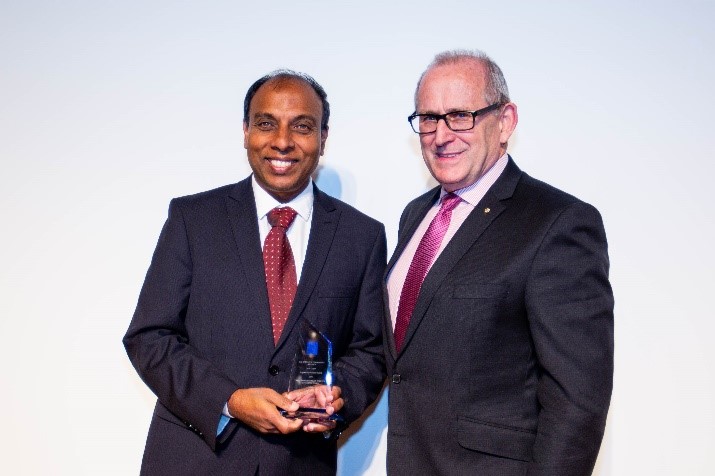 The Excellence Award was won by Prof. (Sathaa) Arumugam Sathasivan and award was presented by The Engineers Australia Immediate Past President Eng. Michael Myers.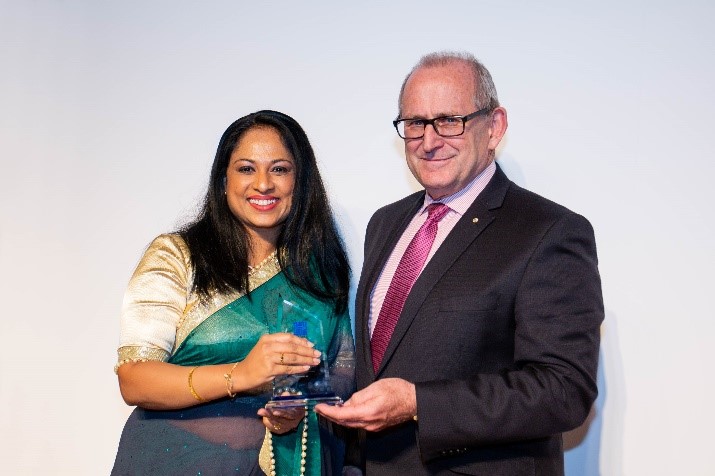 The Highly Commended Award was won by Eng. Nilindu Muthubandara and award was presented by The Engineers Australia Immediate Past President Eng. Michael Myers.
Best Achievement and or Contribution in an Applied Engineering Project Category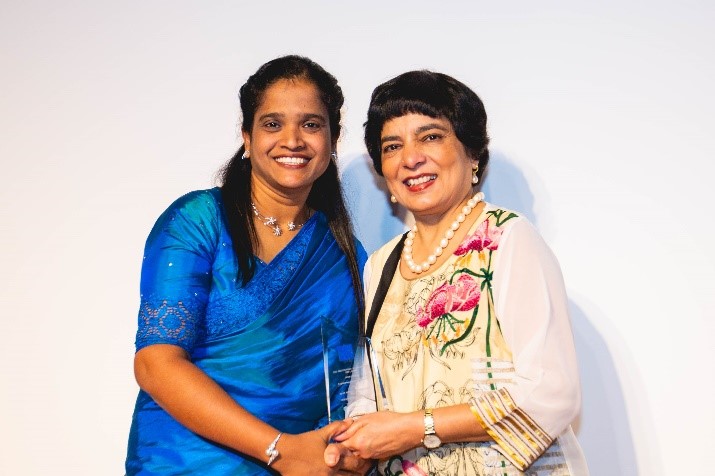 The Excellence Award was won by Eng. Bandula Subasinghe and award was presented by World Federation of Engineering Organisations President Eng. Marlene Kanga.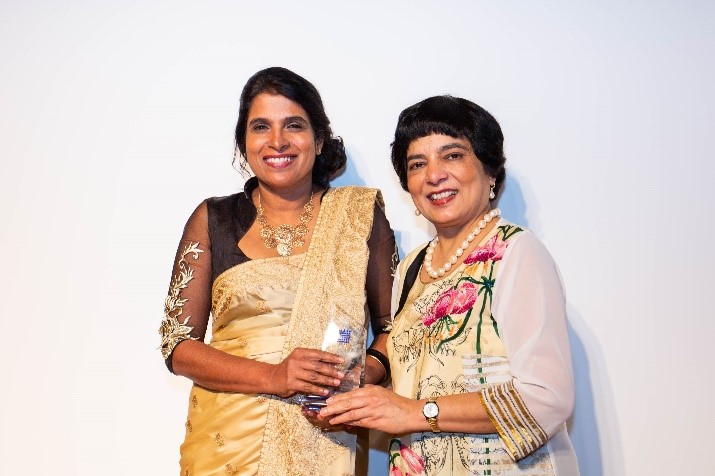 The Highly Commended Award was won by Eng. Manori Suriyarachchi and award was presented by World Federation of Engineering Organisations President Eng. Marlene Kanga.
The Excellence Award Winners in a group photograph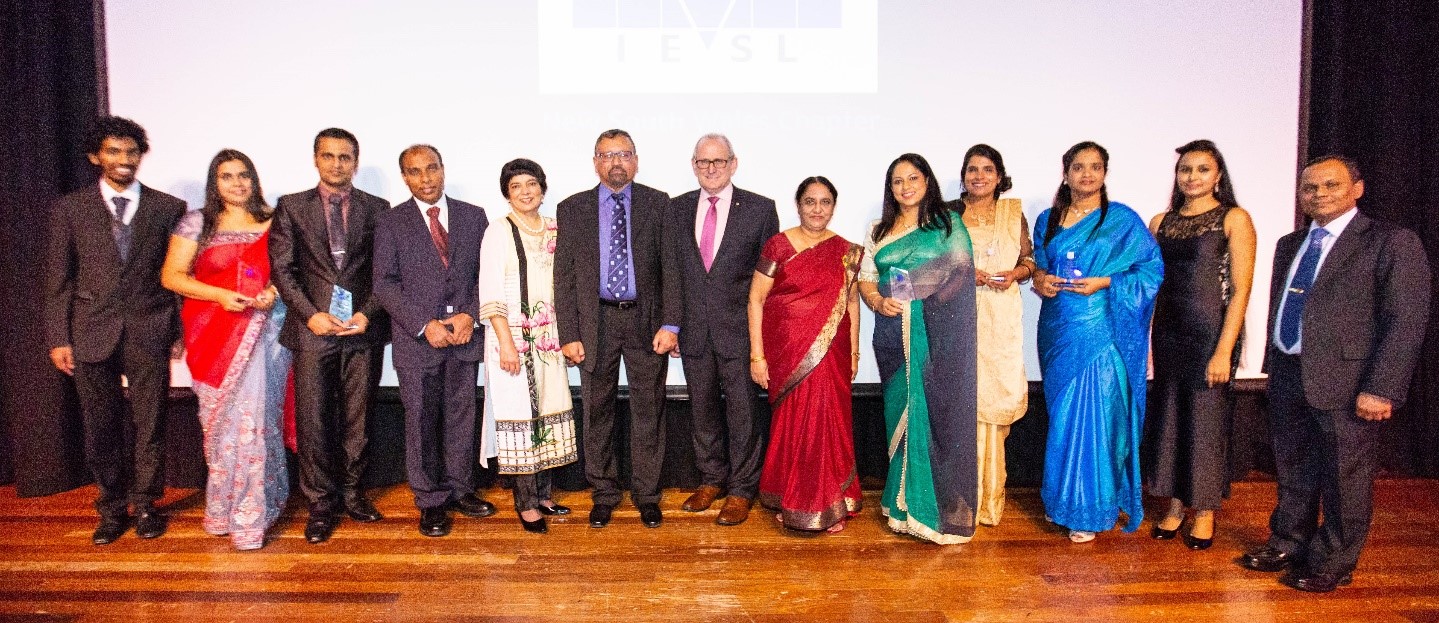 After introduction of the sponsor for the event, SMEC, the Vote of Thanks was provided by Eng. Mahendram Manoharan. The Master of Ceremonies Mr Duke Ramachandran did a grand job with the various introductions and announcements.
The guests numbering over 260 were treated to the lilting tunes of yesteryear by the band in attendance 'Redemptions', for them to enjoy ball room dancing on the dance floor. A sumptuous buffet style dinner followed to the accompaniment of soft music from the band.
The performance item was by the 'Bollywood Group' who enticed many from the guests to join them on the floor in the various dance routines they executed.
In the latter part of the night the dance floor was packed with guests dancing to the catchy tunes dished out by the band.
A grand evening of entertainment finally wound up around mid-night.
All the photos of the Gala Night are found here