Distinguished Professor Buddhima Indraratna to Head New Rail Training Centre
University of Wollongong Distinguished Professor Buddhima Indraratna FTSE will head the new ARC Training Centre for Advanced Technologies in Rail Track Infrastructure, announced by the Australian Research Council.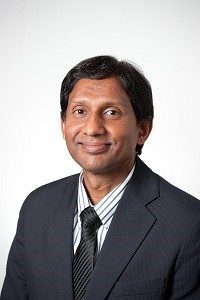 Professor Indraratna is one of Australia's foremost experts on railway infrastructure and the Foundation Director of the Centre Geomechanics and Railway Engineering, the country's first track research centre, established two decades ago.
The ARC Training Centre for Advanced Technologies in Rail Track Infrastructure (ITTC-Rail) aims to transform Australian rail industry by creating a sustainable training program between industry and Australian Universities.
In partnership with rail asset owners, consultants and contractors, the Centre plans to prepare the next generation of industry professionals and dynamic researchers, and develop the materials, construction systems and design innovation that will transform the rail industry towards an advanced manufacturing future.
Professor Indraratna says ITTC-Rail will be a unique national centre for doctoral and postdoctoral training innovation. Its research outcomes will focus on cutting edge rail industry transformation and enhance technological expertise to underpin future high performance tracks.
He notes that rail transport is an inherent component underpinning the Australian economy, in particular through the transport of natural resources such as coal and iron ore to port, but increasing demand has required heavier and faster trains leading to rapid deformations and degradation of the ballast layer.
This, in turn, adversely affects track stability and increases the frequency of track maintenance.
"Irrespective of advanced technologies in rolling stock, including computerised driverless systems to high speed electric engines, it is the variations and uncertainties in the ground (nature) that offer the greatest challenges and impediments, hence the utmost importance of research training of young professionals in the field of rail track technologies," he says
The new rail track centre is one of nine ARC new industrial training research centres announced in June that will be funded to $37 million under the Government's ARC Industrial Transformation Research Program – designed to encourage and support university-based researchers and industry to work together to find solutions to a range of issues facing Australian industries.
The ITRP offers funding through two schemes:
Industrial Transformation Research Hubs (ITRH) which provides funding to eligible organisations to engage in cutting-edge research on new technologies and economic, commercial and social transformation, and supports the development of research in the Industrial Transformation Priorities; and
Industrial Transformation Training Centres (ITTC) which fosters close partnerships between university-based researchers and other research end-users to provide innovative higher degree by research and postdoctoral training for the end-user focused research industries vital to Australia's future.
Reference Link: https://www.atse.org.au/content/fellowspublic/recognition/indraratna-to-head-new-arc-rail-training-centre.aspx​
Minister launches $7.3 million Rail Training Centre
Centre will equip engineers with skills needed to meet Australia's rail transport challenges
Federal Minister for Education and Training Simon Birmingham officially launched a $7.3 million rail engineer training centre at the University of Wollongong (UOW) today (Wednesday May 23). He was joined by his ministerial colleague Senator the Hon Concetta Fierravanti-Wells, Minister for International Development and the Pacific.
The Australian Research Council (ARC) Industrial Transformation Training Centre for Advanced Technologies in Rail Track Infrastructure (ITTC Rail) will train the next generation of rail engineers with the knowledge and skills needed to maintain and upgrade Australia's rail network.
It is the first ever rail training centre to be funded by the Australian Government, with a $3.9 million ARC grant supported by an additional $3.4 million in contributions from the NSW state government and industry and university partners.
Headquartered at UOW, ITTC Rail brings together rail track infrastructure expertise from all sectors of the rail industry, with eight universities and 11 national and international industry partners taking part.
The Australian rail network – the sixth largest in the world – plays a crucial role in the national economy. Improvements in the efficiency, reliability and cost-effectiveness of freight haulage have significant flow-on benefits to the rest of the economy, increasing productivity in industries including agriculture, mining and manufacturing.
Commuter transport can also be improved with new materials, advanced manufacturing and innovative design and construction.
However, maintaining and improving the rail network in order to meet the needs of the future presents significant engineering challenges.
ITTC Rail Director Distinguished Professor Buddhima Indraratna, from UOW's Faculty of Engineering and Information Sciences, said the Centre would aim to create innovative engineering solutions to those challenges while training a skilled young professional workforce to meet the future technological requirements of the industry.
"Given the dependency of the Australian economy on efficient heavy haul, there is a pressing need to upgrade ageing rail infrastructure by rejuvenating higher degree training with a new generation of engineers with advanced knowledge and practice skills," Professor Indraratna said.
"Australia also has some of the world's heaviest as well as longest heavy-haul trains, exceeding four kilometres at times, with considerable challenges offered to railway engineers along problematic soil terrains.
"Through specialist training of industry-focused researchers, ITTC Rail will meet the challenge of designing, constructing and maintaining the rail network.
"This will involve close collaboration with companies in the rail supply chain, programs to promote novel design approaches, and innovative fabrication of products using advanced manufacturing techniques."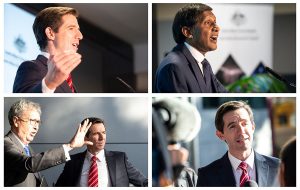 Federal Minister for Education and Training Simon Birmingham at the ITTC Rail Launch with UOW Vice-Chancellor Paul Wellings CBE and ITTC Rail Director Distinguished Professor Buddhima Indraratna
UOW Vice-Chancellor Professor Paul Wellings CBE said ITTC Rail would deliver significant economic and social benefits at both a national and local level.
"ITTC Rail shows the transformative capability of the University, working with industry and government," Professor Wellings said.
"The Centre will build on the University's expertise in rail track engineering to deliver new learning opportunities for students and provide them with the skills and knowledge they will need for the rail industry workplaces of the future. At the same time, the Centre will undertake fundamental research, finding innovative solutions to the complex engineering challenges that Australia's rail network faces."
Minister for Education and Training Simon Birmingham said the Training Centre would be critical in supporting the Turnbull Government's significant investment in rail infrastructure projects across Australia.
"Our commitment to rail infrastructure investment will generate jobs, ease congestion in our cities, increase the capacity of our freight routes and better connect regional areas," Minister Birmingham said.
"The Turnbull Government's investment in the new training centre at the University of Wollongong will ensure Australia's future workforce has the specialised skills and expertise to deliver on projects such as the Melbourne to Brisbane Inland Rail, the Port Botany Rail Upgrade and the Melbourne Airport Rail Link."
The Centre's key aims include:
Creating innovative engineering solutions and products to provide solutions to major railway challenges that can enhance railway performance and extend infrastructure longevity.
Developing a skilled professional workforce through a series of R&D, and training programs carried out in partnership with participants from all sectors of the rail industry. This will address the future technological requirements of the industry by rejuvenating higher degree training.
Advancing fabrication techniques and more resilient product development. The greatest challenge in cost-effective and long lasting rail infrastructure is track degradation.
Develop and implement strategies to commercialise manufacturing, engineering and design innovations to help grow construction and manufacturing businesses servicing the rail industry.
Assist in reforming technical standards and regulations.
Improve global competitiveness and position the country as a global research and development leader in rail engineering.
The universities contributing to ITTC Rail are University of Wollongong, Swinburne University of Technology, University of Sydney, Queensland University of Technology, Curtin University, University of Queensland, Western Sydney University and University of Newcastle.
Industry partners are Australasian Centre for Rail Innovation, Metro Trains Melbourne, Bridgestone Corporation, Snowy Mountains Engineering Corp, Innovative Technology Beijing, China Railway Eryuan Engineering Group, Ecoflex International, Geofrontiers, Polyfabrics Australasia, Nu-rock Technology and Elasto-Plastic Concrete.
Reference Link:
https://media.uow.edu.au/releases/UOW247560.html