A Brilliant Engineer who made Outstanding Contribution to Engineering and Academia – Distinguished Professor Buddhima Indraratna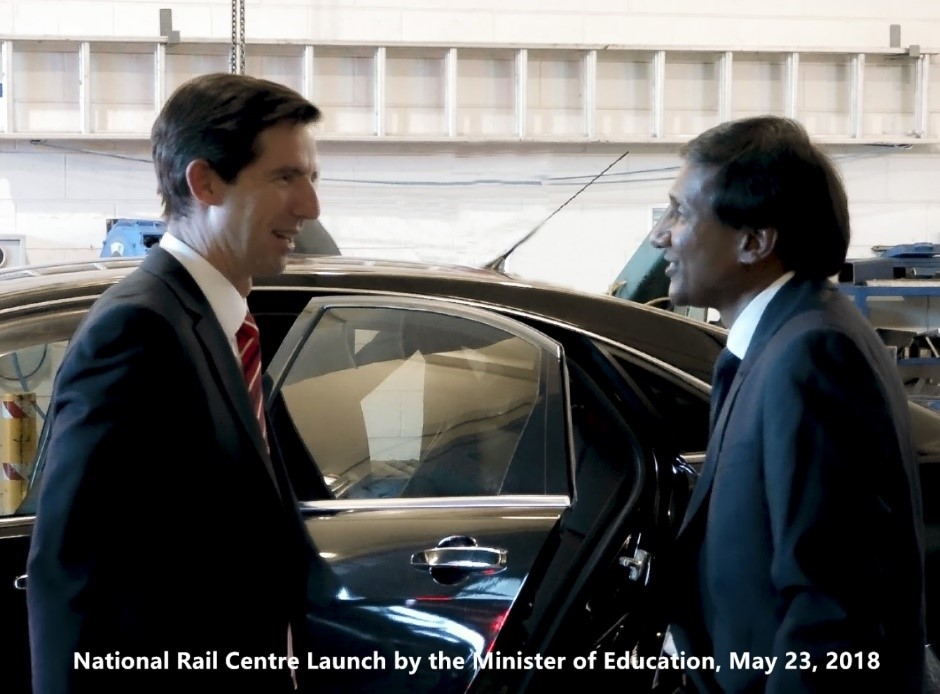 Distinguished Professor Buddhima Indraratna is the first Sri Lankan Civil Engineer to be inducted as a Fellow of the Australian Academy of Technological Sciences and Engineering (FTSE). He is also a Fellow of the American Society of Civil Engineers (FASCE), Institution of Engineers, Australia FIEAust) and Sri Lanka (FIESL), Australasian Institute of Mining and Metallurgy (FAusIMM), and British Geological Society (FGS), as well as a Chartered Engineer of Australia, UK and Sri Lanka. He is the current Research Director at the Centre for Geomechanics and Railway and the Founding Director of the National Industrial Transformation Training Centre for Advanced Railroad Technologies funded by the Australian Research Council.  Buddhima has been responsible for initiating and leading numerous major research projects valued over $30M over the past decade.
Buddhima's journey is certainly one of hard work and exploration. However, what differentiates his journey is the ability to identify and exploit opportunities, which most in the field perceived to be infeasible or cumbersome. Indeed, fundamental and applied R & D efforts on railway infrastructure is a blatant example where Buddhima is now a world authority on the subject and an international consultant.
Buddhima in England…
Buddhima's passion for learning was highlighted when he received the top aggregate of marks for his GCE Ordinary Levels in Sri Lanka. This achievement enabled him to become the coveted recipient of the Lord Mountbatten Higher Education Award offered to developing countries to study at the United World College of the Atlantic in the United Kingdom. When asked if he knew he had a passion for engineering back then, Buddhima gave a quick chuckle and said "Absolutely not! My strongest area was towards biology and other natural sciences. I became technically oriented and started to think about engineering only towards the latter part of my high school." Buddhima credits his career mainly to his civil engineering uncle, a bridge designer (his late father's youngest brother) who looked after him in England and for inspiring him about the potential for innovation as an engineer.
A Young Graduate…
After completing his undergraduate studies at Imperial College, London, Buddhima started his first job at the Kotmale project back home in Sri Lanka under the joint consultants Halcrows (UK) and CECB. Buddhima pinpoints to this job as a significant turning path in his career where he realised the value of being a geotechnical engineer. "I realised during my time at the Kotmale project, my knowhow on ground engineering was not as strong as my knowledge in subjects such as structures and water resources. Landslides, sliding of the jointed rock foundations, grouting and bolting of fractured rock and even micro-seismic monitoring were problematic and challenging issues associated with the mammoth Kotmale project."
Buddhima's passion to chase knowledge is highlighted at this instance, when he decided to collect data from the Kotmale project and used this to enhance his knowledge in the field by completing his Masters dissertation under late Prof. Peter Vaughan at the Imperial College, London, a world leading authority in earth dams. Completing his Masters made him realise his passion for research and despite receiving a scholarship to complete his PhD at Imperial College, Buddhima decided to leave England. He described the time as "One that was not rosy for overseas students following the change in government". It was at this point he decided to move to Alberta, Canada to complete his doctoral studies in the field of geotechnical and mining engineering.
Despite his love for research, Buddhima said "I never thought I would become an academic even after I completed my PhD. During my PhD, I was regularly working in underground copper mines 6000 feet below the ground level in Eastern part of Canada".
After rewarding work experience in Canada Buddhima had this first formal encounter with the world of academia at the Asian Institute of Technology in Thailand. Despite enjoying his time in Thailand for over 2 years, he decided to move to Australia with the objective of getting his hands dirty in industry again working with Coffey Geotechnics as a senior geotechnical engineer. However, several weeks before he was supposed to start as a practitioner at Coffey Geotechnics, the opportunity to work at the University of Wollongong came along in August 1991. "… and I have been here ever since.", Buddhima said reflecting upon the 27-year career he had built there.
Staying Ahead in a Time of Budget Cuts…
The past couple of decades have been a time where research funding has been continually slashed in various ways, with more and more people trying to take a bite off the same size pie from the Commonwealth and State research budgets. Despite this, Buddhima's research group at UoW has managed to stay ahead of the tide bringing in millions of dollars of funding from the government and industry. Buddhima boiled down his success to one key factor "When civil engineering was in trouble, I picked areas which no one else was interested in. That's how railway track engineering research came into being and I initiated that R &D area through major research grants funded under Cooperative Research Centres and Australian Research Council. Most Civil engineers simply travelled on the trains but didn't really think of the need for improving these tracks through innovative research.
Buddhima was certainly a pioneer in his field in Australia. He recounts 1996 as the year when a lot changed in his career. Sydney had just won the bid for the 2000 Olympics and Buddhima said "That's when the railways panicked a bit. They started to ask how they could carry significantly increased number of people on the trains without changing the track conditions, so the 2000 Sydney Olympics in a way ignited my research career".
Buddhima mentioned the ability to secure Australian Research Council funds depends not only on innovation but also on the ability to align one's research with the government's strategic priorities. "This is how I managed to continue receiving external grants since the 1990s to date".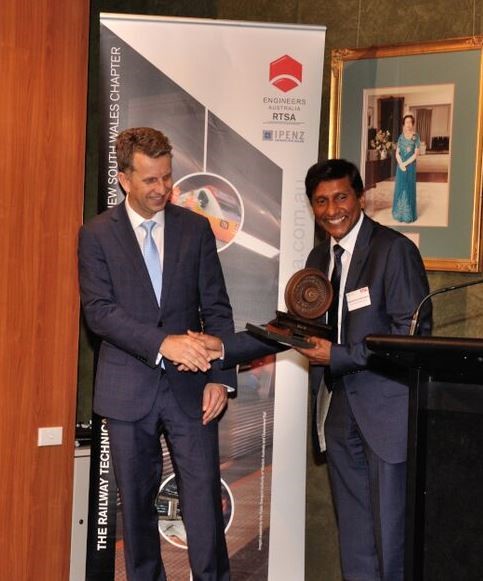 Professor Buddhima Indraratna receiving the RTSA Individual Award at the NSW Chapter Annual Dinner in 2015
Engagement with IESL and the Sri Lankan Community
Buddhima's initial engagement with the Sri Lankan engineering community began back during his days at the Kotmale project. Then as a young graduate engineer, he worked very hard on the project on weekdays but spent his weekends giving lectures to Masters and thesis students at the University of Peradeniya and Moratuwa. "This is where I built my contacts amongst the Sri Lankan engineering community and these contacts have helped me to this day. Most of my brilliant PhD students from Sri Lanka hailed from Peradeniya and Moratuwa universities, and also from Ruhuna since late".
Buddhima has continuously encouraged his students to engage with the IESL NSW Chapter community since its inception. The annual Engineering Conference and Young Engineers Day almost always have had a student from Buddhima's research group.
Highlights of Buddhima's Significant Contribution
Over the last three decades Buddhima made significant contributions to the engineering community and academia by publishing Over 700 scholarly publications including 300+ top ranked, peer-reviewed journals, 10 research-based books, 300+ peer-reviewed national and international conference papers including over 60 invited Keynote papers and Special Guest Lectures.
Buddhima's research activities have already produced over 60 industry focussed PhD students and this number is expected to grow over the next few years in line with his efforts at the National Industrial Transformation Training Centre of Advanced Rail Track Technologies, ITTC-Rail funded by the Australian Research Council and industry.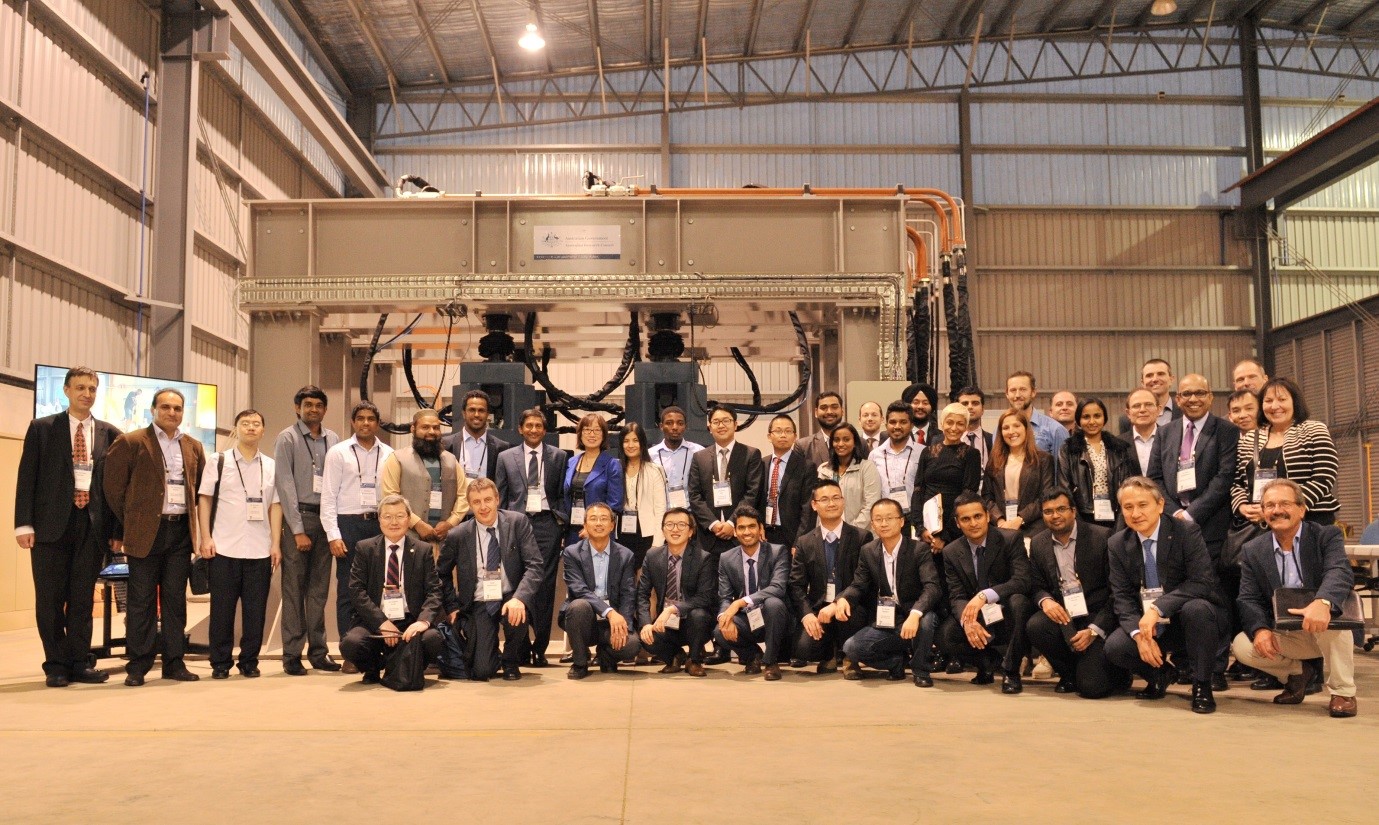 National Facility for Cyclic Testing of High-speed Rail Launch
What's Next for Buddhima Indraratna?
"My aim is to ensure I have made a significant contribution to Australia and other countries in the training of young professionals to become masters of the art when it comes to railway design and construction, and geotechnical applications in real-life in general".
National and International Awards
Some of the National and International Awards received by Prof Buddhima during his  illustrious career.
| | |
| --- | --- |
| National and International AWARDS | |
| 2017 IACMAG "Outstanding Contributions Medal" in recognition of life-time contributions to geotechnical engineering. One of the most prestigious accolades within the international geotechnical community, awarded by the International Association of Computer Methods & Advances in Geomechanics (IACMAG). | 2017 |
| Combined IEAust and RTSA Individual Award for outstanding services to Railway Engineering and Geotechnology in Australia and for the international geotechnical community | 2015 |
| Ralph Proctor Inaugural Lecture of ISSMGE (delivered in Portugal, Sept. 2016) for outstanding academic and research achievements and professional contributions in the field of transportation geotechnics. | 2016 |
| 4th Louis Menard Lecture Award of ISSMGE for contributions to Ground Improvement (delivered in Seoul, 2017 at the 19th ISSMGE Conference). | 2015 |
| Thomas Telford Premium Award from Inst. of Civil Engineers (UK) for contributions to Ground Improvement | 2015 |
| CS Desai Excellence Medal for outstanding contributions to geotechnical teaching and research, IACMAG. | 2014 |
| Vice-Chancellor's Award for Outstanding Research Partnerships, University of Wollongong, Australia. | 2013 |
| BD Rampala Memorial Lecture, hosted by Inst. of Engineers, Sri Lanka, Colombo, for outstanding contributions to Rail Engineering. | 2013 |
| Eurasian University Medal for contributions to geomechanics and rail geo-technology | 2012 |
| Robert M. Quigley Award by the Canadian Geotechnical Society for outstanding contribution through article in Canadian Geotechnical Journal in the area of soft soil stabilisation by vacuum consolidation | 2012 |
| Engineers Australia Transport Medal for distinguished contributions to Australian transport industry | 2011 |
| Vice-Chancellor's Award for Outstanding Research, Uni. of Wollongong Australia. | 2010 |
| Appointment to the Awards Committee of the International Society of Soil Mechanics & Geotechnical Engineering (ISSMGE), the primary society with @ 20000 members of the worldwide geotechnical community. | 2010 |
| EH Davis Memorial Lecture Award by the Australian Geomechanics Society for Distinguished Contributions to theory and practice of Australian Geomechanics. | 2009 |
| B-HERT (Business-Higher Education Round Table) Award: "Best Research and Development Collaboration", in recognition of contribution to: "Rail Track Innovations in Australia" in partnership with RailCorp (NSW). Sponsored by the Australian Government, Dept. of Education, Employment & Workplace Relations. | 2009 |
| Vice-Chancellor's Commendation Award for Collaborative Industry Partnerships, University of Wollongong. | 2009 |
| IACMAG Medal for Excellent Contributions to the Region (Australasia), awarded by the International Association for Computer Methods and Advances in Geomechanics (IACMAG). | 2008 |
| IACMAG Outstanding Paper Award: Indraratna, et al. (2005). Analytical and Numerical Modelling of Soft Soil Stabilised by PVD incorporating Vacuum Preloading.  International Journal of Geomechanics, ASCE, Vol. 5, pp. 114-124. | 2008 |
| Prix Robert M. Quigley Award by the Canadian Geotechnical Society for outstanding contribution to the geotechnical profession through the article in the Canadian Geotechnical Journal in the area of radial consolidation of soft soil with non-Darcian flow. | 2007 |
| Wollongong Trailblazer Open Competition – First Prize for research innovation in recognition of commercial potential: "A novel soft soil improvement method for transport infrastructure". | 2006 |
| Hon. Late Prime Minister Sirima Bandaranaike Award (c/o Ministry of Science and Technology, Sri Lanka) for research contributions to infrastructure development in Sri Lanka. | 2001 |
| Swedish Geotechnical Society Award for contribution to the field of ground improvement. Award received at the 12th European Conference on Soil Mechanics. | 1999 |
| Vice-Chancellor's Award for Excellence in Teaching, University of Wollongong | 1997 |
This article was written by The University of New South Wales (UNSW) Final Year Chemical Engineering Student and Founding President of UNSW Impact Engineers Buddhi Ranasinghe after discussion with Prof. Buddhima Indraratna.