"Radio & Television Broadcast"- Public Lecture presented via zoom on 18th September 2021 by Dr Amal Punchihewa
Please follow this link to view the recording of the lecture 
The lecturer presented about the transformation that the radio and television industries are undergoing.
Dr Amal Punchihewa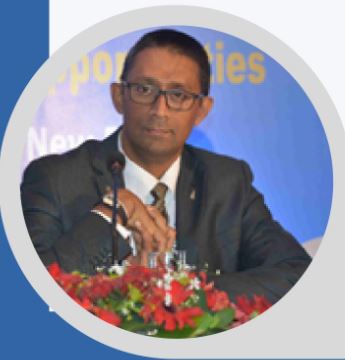 Amal Punchihewa graduated with BSc (Eng) Hons specialised in Electronics and Telecommunication Engineering from Sri Lanka, MEng from the Technical University of Eindhoven, the Netherlands & PhD from Massey University in New Zealand. He has published over 130 scholarly articles (peer-refereed technical journal and conference articles) in various journals including IEEE and IET digital libraries and transactions. He has held visiting positions at Tokyo University of Science (Japan) as a visiting associate professor and visiting professor. He was a Royal Dutch fellow of Netherlands and Japan Society for the Promotion of Science (JSPS of Japan). He has served on technical/programme committees, organizing committees and as track/session chairs for many international conferences. He advised on many International conferences including CCBN conference in China, BES in India and BCA in Singapore.
Amal inspires innovation of media technology in the complete chain of media, starting from acquisition to consumption in the broadcasting industry. He influences the development of media technology in the best interest of the global community. He is an ITU Expert.
Amal is a Chartered Professional Engineer and Fellow of IET(UK) and a senior member of IEEE(USA) He is also a distinguished lecturer of IEEE-Broadcast Technology Society. He is FEngNZ(Rtd.) was elected a Fellow for advancing engineering knowledge and practice. Amal is recognised in New Zealand and internationally as an information and communications technology engineering expert. He has been a leader in regional and international broadcast engineering, supporting the development of modern radio & television services. He possesses more than 35 years of experience in all three sectors of broadcasting; viz. Academia, Research and Industry in senior broadcasting technology and ICT roles, including research and developments, regional capacity building in media and head of engineering of national television – SLRC-Rupavahini in Sri Lanka, having started a career in computer engineering.
Amal facilitates and advocates technical guidelines and standards, and provides expertise related to the convergence of media, and evolving technology needs. He creates, encourages, and manages member communities, and understands and explains the trends that shape the media, to empower media & ICT stakeholders to continue to take good strategic decisions.
 Synopsis
This presentation was focused on the transformation of the radio and television industries are undergoing. These transformations are triggered by disruptive technologies such as wired and wireless broadband, artificial intelligence, and device ecosystems. A diverse emerging broadband and broadcast technologies, including terrestrial, satellite, cable TV, digital radio broadcast technologies will be outlined to show the impacts they are making. Having taken the change in audience consumption patterns, the industry is responding to uncertainties and challenges posed by rapid technological advancements and the COVID-19 pandemic.
Rejuvenation of radio and television educational broadcasting services combined with information provided by broadcasting stations (especially, public service) during the lockdown period as a reminder of the value and the public duty that broadcasting contribute to the GDP of a country. The presentation leaves the audience to decide the future of radio and television broadcasting.