Varuni Fernando is contesting for a position in the Engineers Australia Sydney Division Committee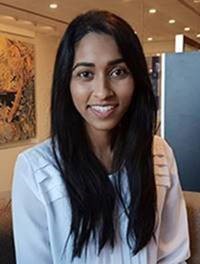 Varuni Fernando is actively involved in the IESL NSW Chapter Young Engineer's activities and a very active member of Engineers Australia Sydney Division. She is keenly involved with her former school to promote young girls to pursue engineering as a career.  Varuni's father was the first IESL NSW Chapter Chair.
We, the IESL NSW Executive committee would like to request you to support her candidacy and actively participate in her campaign to become a member of Engineers Australia Sydney Division committee.
Please find below the statement received from Varuni Fernando to publish in our newsletter. Here's the link to the candidate statements: https://www.boardroomlimited.com.au/vote/ea-elections/sydney/
"I have been heavily involved in Engineers Australia Sydney Division for 5 years as a member of the Women in Engineering, Sydney Division Committee.
I joined the committee as a Student Scholarship winner in 2014 and co-founded the annual Experience It! Student conference. Since its inception, approximately 800 school girls in years 8 to 10 have had the opportunity to participate in a series of engineering workshops hosted by a variety of university and industry partners.
After completing my degree (B Eng (Electrical) Hons 1, UNSW), I was elected into the WIE Sydney Committee as a Publications Coordinator where I managed the newsletter and publication of the annual report. From there, I moved into the role of Vice Chair before being elected Chair for 2017 and 2018.
As current Chair of WIE Sydney, I have to lead the team of 13 committee members on the execution of a variety of events and initiatives including the WIE Winter Gala, Eminent Speakers Breakfast, Panel Discussions, Masterclasses, Strategy Days and collaborative activities with CLM, YEAS, and Engineers Without Borders. As part of my role, I have represented EA at the Australia Gender Equality Council Annual Summit and attended multiple schools and university outreach events as a speaker.
I am currently a Systems Engineer at ResMed Ltd and have been with the company for 3.5 years. I have always found that working in research and development and medical devices meant I brought a unique perspective and thought the process to the table for Engineers Australia.
Being elected to the Engineers Australia Sydney Division Committee would be a new challenge, allowing me to work with a broader circle of engineers and would provide further visibility of activities in both the metro and regional areas. I have a passion for women in engineering, engineering education and growing the pipeline of engineers, and my time with the WIE committee has allowed me to experience the workings of our organisation.
I believe I am well placed to represent the membership on the Division Committee and hope I am afforded the opportunity".